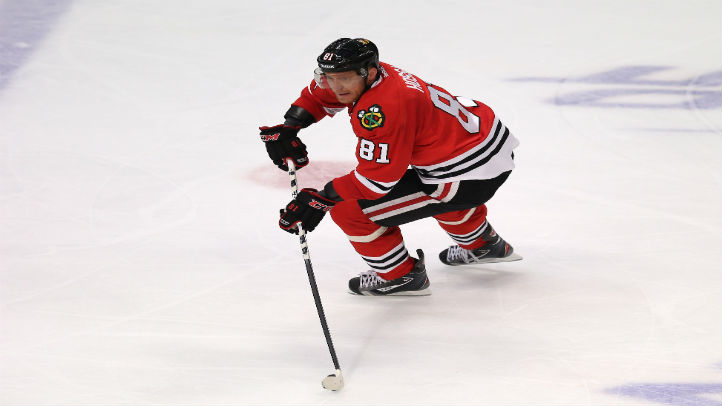 They made it interesting by coming back from not one, but two one-goal deficits in the game, but in the end the Chicago Blackhawks couldn't quite pull off the victory as the Anaheim Ducks snuck out of the United Center with a 3-2 shootout victory on Friday night.
The Blackhawks will now try to regroup as they get ready to face the Florida Panthers on Sunday night, but for now, here were the Hawks' Three Stars of the game.
Third Star: Antti Raanta
We're going to subtitle this edition of Three Stars the "beggars can't be choosers" edition, because there wasn't a player on the Hawks who contributed in a positive way to the outcome but didn't also have a couple of glaring moments of poor play to go along with that.
Raanta is a sterling example of that. Yes, he misplayed a puck during a Hawks' power play that Corey Perry nearly batted into the net (although to Raanta's credit, he did make several saves after dropping the puck right in front of Perry in the crease). Yes, Raanta should have stopped Ryan Getzlaf's shot from the point that ended up beating him five-hole. Yes, Raanta looked like a goofball when he went way too aggressively for a poke check on Nick Bonino in the shootout and ended up allowing the puck to simply slide underneath him and into the net as he came down to the ice.
Despite all of those mistakes, Raanta's sterling play both in the third period and overtime earned him at least this spot on the countdown. He made several excellent saves over that stretch, including a great leg pad save on a Getzlaf shot that came in from the point but made its way through all sorts of traffic in front of the net. Raanta also made a great save on a chance in close during the closing seconds of the overtime period to keep the game tied at 2-2.
Even with that mixed bag of results, Raanta more than held his own as his team struggled to get their legs underneath them in this game, and the shootout loss is a bit of an unfair blemish for a guy who actually had a solid game.
Second Star: Marian Hossa
When it seems that the Hawks are having a tough time getting things going on the offensive side of the puck, one of the players that the team can count on to help create offense in a pinch is Hossa, and he showed that ability once again on Friday night.
All night long, Hossa's puck movement was something to behold, and he had his best moment in the waning minutes of the second period. On a power play, Hossa grabbed the puck off a pass from Brent Seabrook, and skated it along the near boards. Patiently waiting for an opening, Hossa eventually fired a pass into the middle of the ice, where Kris Versteeg was waiting for it.
Once Versteeg was able to pot his own rebound, the Hawks tied things up on the power play tally, and Hossa once again showed that slow and steady really does win the race…provided you have a lightning quick pass that can be threaded through a defense.
First Star: Kris Versteeg
Just like Raanta, Versteeg had a very up and down game for the Hawks on Friday. He had a goal and an assist in the game, but he also had several really bad turnovers in the neutral zone, including one that led to an easy scoring chance for Ben Lovejoy. That play was fortunately broken up by a poke check deflection on the shot attempt, but it was still another example of Versteeg trying to get too fancy with the puck instead of just dumping it into the zone and going in and getting it (much like Joakim Nordstrom did on several occasions in the game).
Versteeg's contributions on the positive side of the ledger were much more numerous though, and both of his points came on smart plays. His assist in the first period came when he opted to hold onto the puck on entry into the offensive zone rather than just firing it down the boards, and it was his touch pass back to Patrick Kane that ultimately set up Ben Smith's game-tying tally.
On Versteeg's goal, he read the play perfectly as Hossa carried the puck along the boards, and he got to the netfront just in time to receive a great pass. His first shot ended up being stopped by Jonas Hiller, but the Ducks weren't able to corral the rebound, and Versteeg simply loaded up again and flipped a wrist shot into the open cage to tie things up again.
Versteeg may have his fair share of head-shaking moments of silliness when he's on the ice, but it's plays like that first period pass and that second period goal that keep fans coming back for more, and Versteeg will have to continue to play like that if he is going to continue to get big minutes upon the return of guys like Andrew Shaw and Bryan Bickell to the Chicago lineup.