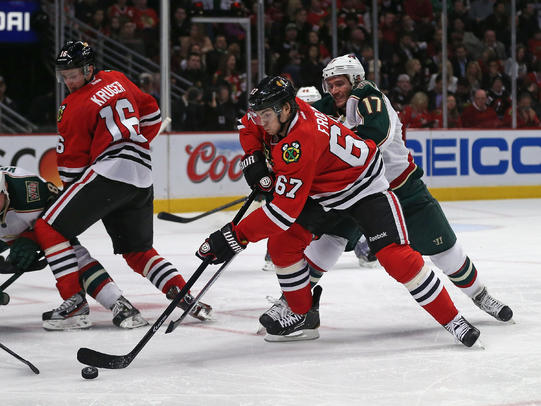 Buoyed by a pair of two goal games from Patrick Sharp and Michael Frolik, the Chicago Blackhawks dispatched the Minnesota Wild 5-2 at the United Center on Friday night. Corey Crawford made 26 saves, and Bryan Bickell tallied an empty net goal as the Hawks grabbed a 2-0 lead in the best of seven series.
For a more detailed breakdown of how the game went down, here are Friday's three stars:
Third Star: Brandon Saad
Saad has been known recently more for his hairstyle choices than his goal scoring ability, and while the latter didn't materialize on Friday, it sure wasn't for lack of trying. Saad ended up putting seven shots on goal in the game, and with Sharp finally breaking through and scoring twice, it would appear that the "snakebit" label has now changed owners.
Despite the lack of scoring, it is a great sign for Hawks fans that Saad has taken such a proactive role in asserting himself on the ice. Most rookies are fairly tentative when they get into the playoffs, afraid that they will make a mistake. Guided by linemates Marian Hossa and Jonathan Toews, Saad seems to feel free to play his natural game, firing shots and dishing out hits all over the ice. He even was trusted to take a little bit of penalty killing time last night with Michal Handzus, and the duo worked well together in clearing the puck.
The goals will eventually come for Saad, and he seems confident enough to be there when opportunity presents itself.
Second Star: Patrick Kane
Eventually, the media will run out of adjectives to describe how well Kane has been playing this season, but Friday's effort makes the task a necessity. Not only did Kane rack up five shots on goal and three takeaways in the game, but he also had two assists, including a fancy no look pass that set up Sharp's second goal of the evening.
In 53 career playoff games, Kane now has 55 points, proving that he loves to ratchet up his game when the playoffs roll around. During the regular season, he seems to have more of a nose for the goal, but when the playoffs come, he transitions into more of a facilitator role for his team, and with guys like Toews and Sharp around him, his precise passing has a lot of beneficiaries.
First Star: Michael Frolik
In Game 1, the Blackhawks only managed six shots on goal in the first period. Game 2 was a completely different matter, with the Hawks getting 17 shots on net, forcing Minnesota goaltender Josh Harding to feel ill at ease. Frolik was the head of the class in terms of putting the pressure on early, scoring a goal in the first period and continuously pushing the offensive tempo, just as he has all season long.
Frolik also did a great job of reversing momentum when it seemed to be slipping away from the Hawks. Early in the second period, the Hawks were a man down when Toews went off the ice on an uncharacteristic undisciplined high stick penalty. Just 15 seconds into the Minnesota power play, Frolik potted a short-handed goal to give the Hawks a 2-0 lead and suck the wind right out of the Wild's sails.
It was nice to see a guy who works just as hard as any other Blackhawk finally get rewarded for all the little things that he does well. The ace penalty killer and constant tempo pusher hasn't been lighting up the scoresheet all that much, but just like in Sharp's case, he finally got his just rewards in a big win for Chicago.