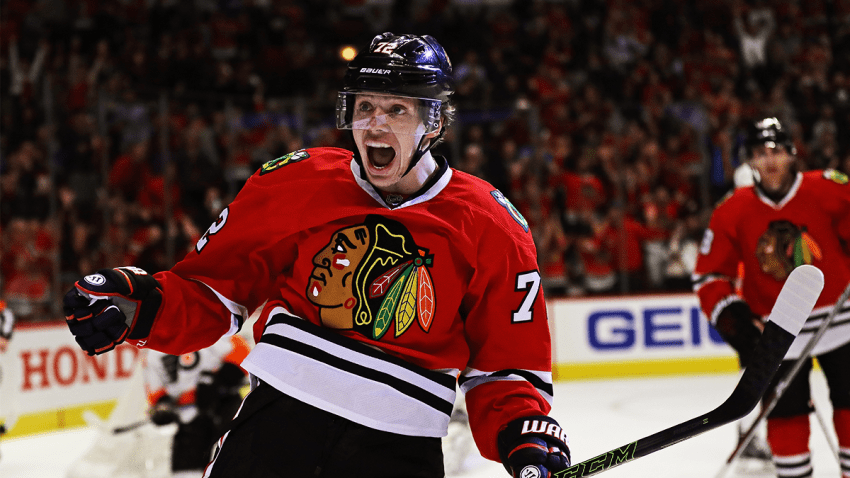 The Chicago Blackhawks have had some offensive issues over their last few games, but those were nowhere to be found on Sunday as they picked up a 3-1 victory over the Dallas Stars.
The win, which keeps the Blackhawks in the top spot of the Central Division, comes as they are preparing to go on a tough three game road trip through New York and St. Louis, and it also showed off the skillset of several key players to the team's success.
Here were our Three Stars of Sunday's win.
Third Star: Trevor van Riemsdyk
When he first came back into the lineup, van Riemsdyk looked absolutely lost on the ice, making bad defensive plays, skating out of position, and showing zero assertiveness as he struggled after returning from injury.
Over the last few games however, van Riemsdyk has stepped up in a big way, and he continued that on Sunday as he was the Blackhawks' best possession player on the blue line (racking up an impressive 64.3 percent Corsi rate in nearly 21 minutes of even strength play). He also made a big defensive stop at the blue line, preventing a 2-on-1 rush by Jason Spezza by pinching into the boards and forcing a turnover at the line.
If van Riemsdyk can continue to find his form, then the Blackhawks' already deep defensive group becomes even stronger, and it could be one of their biggest strengths as they continue through the regular season.
Second Star: Artemi Panarin
Panarin has continued to exceed expectations in his second NHL season, and Sunday provided more evidence that he is well on his way to a gigantic payday at the end of the year. The sniper scored yet another goal, this time on the power play, and he posted a mind-boggling 72 percent Corsi rate in the Blackhawks' victory.
It wasn't just that his goal was timely, as it gave the Blackhawks a critical insurance tally, but it was also a remarkable display of skill. Duncan Keith fired a perfect slap pass up the ice to Panarin, and from a very tough angle the Russian winger was able to dip down and rip a one-timer slap shot past Kari Lehtonen for the remarkable tally.
The Blackhawks have got to start varying up their attack on the power play a little bit, as they rely too much on the cycle-to-Panarin strategy during games, but when it works, it works beautifully.
First Star: Ryan Hartman
Coming into the season, the Blackhawks needed to have their youngest players step up in meaningful way, and there is likely no rookie that has been more effective for this team on a nightly basis than Hartman.
He once again demonstrated his value on Sunday, picking up a primary assist on Marian Hossa's second period goal and setting up the game-winning goal later in the contest. Jumping out of the penalty box, Hartman got the puck in stride, maneuvered his way around Stars defenseman Stephen Johns, and put a tough shot on net that Lehtonen was able to stop.
Johns ultimately tried to clear the puck out of the crease, but his shot bounced off of Artem Anisimov and into the cage to give Chicago a 2-1 lead. Because Johns played the puck, Hartman wasn't credited with the assist, but it was without question the rookie winger's individual effort that set the whole thing up.