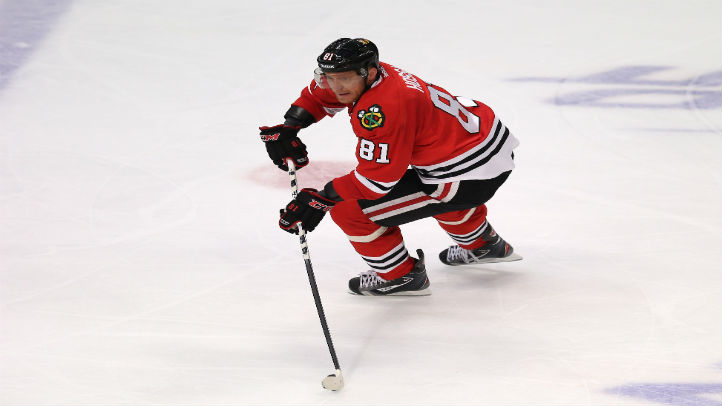 It didn't look good for the Chicago Blackhawks on Wednesday night, but behind a third period goal barrage from Patrick Kane and Patrick Sharp, the Hawks knocked off the Calgary Flames 3-2 to extend their winning streak to four games and kept pace with the St. Louis Blues, who won their fifth straight game.
For now, the Hawks will have Thanksgiving off before taking on the Dallas Stars on Friday, but we're still here with your Three Stars of the game:
Third Star: Patrick Sharp
All season long, Sharp has made it a point of being one of the primary catalysts of the offense, and Wednesday night was no exception. The veteran forward had seven attempted shots in the game, and it was his goal in the third period of the contest that tied things up at 2-2.
What was notable about Sharp's performance wasn't so much that he ended up scoring a goal in the third period, but rather that he never gave up despite being stymied on several occasions by Flames goaltender Reto Berra. Several of his best chances were saved by the Flames rookie, including one in the second period that Sharp had a great look on in the slot, but Berra was able to dive across the crease and smother the shot without giving up a tally.
Sharp has been a streaky player throughout his career, and so he is bound to have nights like this where he just can't find the back of the net. In this one though, he never gave up, and when Marian Hossa made a great move to get some open space on a rush, it was Sharp who was there to one-time a shot into the net to tie things up.
Second Star: Marian Hossa
The assist that Hossa picked up on Sharp's goal was merely the icing on the cake for a great offensive night for the veteran forward, who rejoined the team following a couple of games off so that he could be with his ill wife in Chicago.
Showing a remarkable ability to compartmentalize in the face of personal adversity, Hossa played with a vengeance on Wednesday night, getting some of the best looks that the Hawks had during the hockey game. On one sequence on a power play in the first period, Hossa managed to evade both Lance Bouma and Sven Baertschi on a rush and very nearly scored, with Berra making a fantastic save with his leg pad as Hossa finished off his offensive push.
Ultimately though, it was his assist to Sharp that generated the most "ooh's" and "aah's". On that play, Hossa came into the zone with a head full of steam, but instead of just putting a shot on net, he instead looped around the zone and drew a couple of Flames defenders with him. After fighting through a couple of backcheck attempts, Hossa put a perfect pass onto Sharp's stick, and the resulting goal tied the game and quieted the crowd at the Scotiabank Saddledome.
First Star: Patrick Kane
During his now 12-game point streak, Kane has seemingly been on a roll in all areas of the game. Whether it's displaying the aggressive backchecking game that he has introduced into his defensive arsenal, to the potent wrist shot that teams keep inviting by giving him space on the ice, to precision passing that has flummoxed opponents throughout his career, Kane has been a player at the peak of his powers in just about every area, and Wednesday night was no exception.
Kane scored a nice goal about halfway through the third period when his shot deflected off of Kris Russell's stick near the Calgary goal line to bring the Hawks to within one goal, but it was his shot with 18 seconds left that was the deciding blow.
On that play, the Hawks established some great possession in the offensive zone like they had been doing the entire night, and Kane circled around the zone to try to find an open seam. Niklas Hjalmarsson fired a shot from the blue line that ended up finding its way to Kane, but he wasn't able to just fire a clean shot off immediately. Instead, Kane had to grab the puck on his backhand and put another shot on a scrambling Berra, and this one found the mark, giving Chicago a 3-2 lead with just 18 seconds remaining in the contest.
With Zach Parise dealing with a foot contusion, Kane's play as of late has cemented his status as the best American player in the game today, and if he can keep up this type of performance on both sides of the ice, then Team USA is going to have quite the dynamo on their hands for the Sochi Olympics.