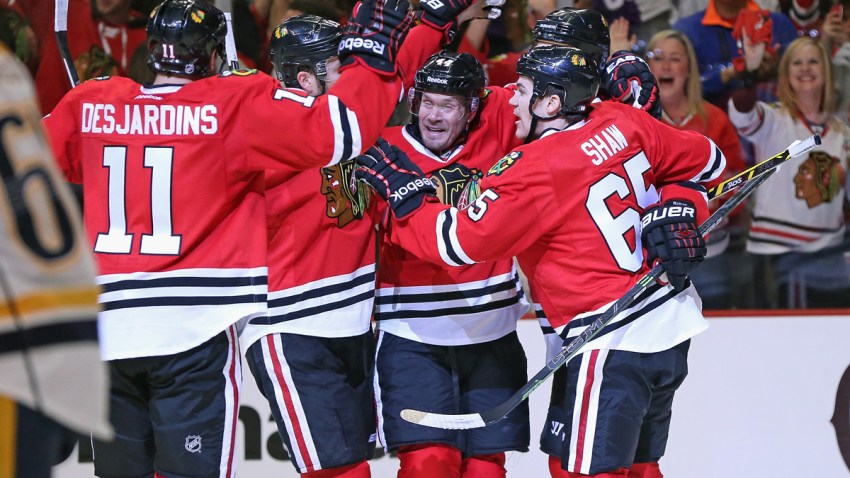 The Chicago Blackhawks needed some great individual performances to succeed against the Nashville Predators on Sunday, and that's exactly what they got as they picked up a 4-2 victory to take a 2-1 lead in the best-of-seven series.
We'll have plenty of reaction to Game 3 on Monday here, but for now, we'll focus on our "Three Stars" of the game.
Third Star: Marian Hossa
There have been times this season when the Blackhawks have been accused of taking things too lightly and not putting forth maximum effort, but if there was a player on the ice Sunday that took those ideas and put them firmly on their ear, it was Marian Hossa.
Hossa came out of the gate firing and never stopped in the game, racking up six shots on goal, dishing out two assists and registering two hits and two takeaways in 15:37 of ice time.
While the highlight reel play of the day from Hossa was his give-and-go with Jonathan Toews in the offensive zone prior to the captain's second period goal, his stretch pass to Andrew Desjardins in the first period was perhaps even more impressive. With Nashville on a line change, Hossa saw an open seam through the neutral zone, and he put the pass right on the tape of Desjardins, who ultimately scored and gave the Blackhawks their first lead of the series.
Second Star: Brandon Saad
Speaking of players who had something to prove on Sunday, Saad came into the game with only one point in his last six games, but he quickly changed that in this contest as he scored what ultimately was the game-winning goal early in the second period.
On the play, Saad used a combination of smart stick work and raw speed to beat his opponents. Grabbing the puck in the defensive zone, Saad made a great play to work around Seth Jones at the blue line, and from there he was off to the races. Roman Josi eventually cut over to try to force Saad to shoot from a bad angle, but his speed and hands made the play happen as he ripped a shot past Pekka Rinne to give the Blackhawks a 3-2 lead.
If Saad is going to stay on the top line for the remainder of the postseason, then he is going to need to turn his opportunities into goals, and that's exactly what he did on this excellent play.
First Star: Andrew Desjardins
There was some criticism before the game of Joel Quenneville's decision to bench Teuvo Teravainen for Game 3, but the player who skated in his spot acquitted himself beautifully, as Desjardin racked up four shots on goal and scored his first goal as a Blackhawk in the victory.
While Desjardins' quick follow-up to his first period shot resulted in a goal, he played a critical role in the Blackhawks' late second period goal. On a possession that seemed like it lasted for hours, the Blackhawks poked and prodded at the Predators' defense, and eventually they scored on a Brent Seabrook shot from the slot. The whole play was kicked off by a great play by Desjardins, who was upended as he came into the zone but still managed to control the puck and dish it off to a teammate before Nashville could clear it.
The goal he scored will get a lot of attention, but his strength on the puck and ability to keep plays alive really helped the Hawks in this instance, and it was great to see the team's trade deadline acquisition have such a big impact on the game.