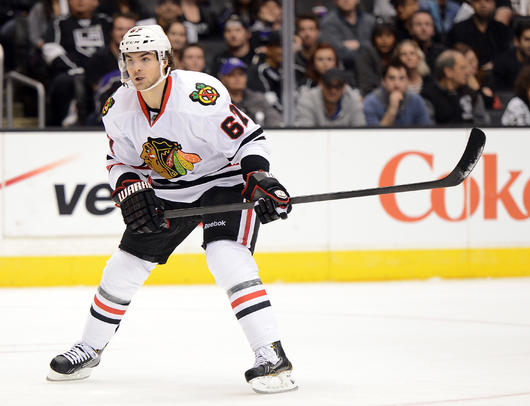 There were plenty of negatives surrounding the Chicago Blackhawks' loss to the Los Angeles Kings on Monday night, but there were a few positive performances turned in.
To examine those, here are Monday's Three Stars:
Third Star: Jonathan Toews
Toews had yet another excellent game on Monday, netting the go-ahead goal in the third period and dishing out an assist as well. He was one of the few Hawks that actually won some puck battles, and there was one in particular worth noting.

On that third period goal, Toews was battling in front with Los Angeles center Mike Richards. Throughout the game, Richards had been dominating guys all over the ice with his physical style of play, but on that play, Toews engaged him for a brief second, then subtly shifted his skates and got inside position on the veteran rabble rouser. Seconds later, Toews picked up a rebound and potted the goal.
People may enjoy watching the flair with which Patrick Kane plays the game, but when you are looking at which Blackhawk is the total package of physicality, scoring touch, and defense, then Toews is surely your guy.
Second Star: Duncan Keith
Keith has been quietly having a great season. While guys like Johnny Oduya and Niklas Hjalmarsson have been garnering their fair share of headlines, Keith has been picking up points in bunches, and has really been doing a great job of playing responsible defense, even with his blue line partner in crime Brent Seabrook struggling at times.
Moving forward from this game, in which he had three assists, keep an eye on whether or not Keith and Seabrook will start drawing the tough defensive assignments again. Late in the third period, head coach Joel Quenneville elected to take Keith and Seabrook out and to insert Oduya and Hjalmarsson. It is a move he has made several times recently, but this time, the Kings immediately scored a goal off of a face-off win by Anze Kopitar, with the puck bouncing off of Oduya's back on the ensuing play.

Will Keith and Seabrook get their jobs as primary shutdown guys back? Tuesday night's tilt with the Flames could provide the answer.
First Star: Michael Frolik
What else can you say about Frolik's performance on Monday? Here's a guy who scored in the first period of the first game of the season, and hasn't netted a goal since. He has been an ace penalty killer, and has really been working his tail off in recent weeks with nothing to show for it, so Quenneville decides to put him on the top line with Toews and Brandon Saad.
Needless to say, the move worked. Frolik ended up scoring not once but twice, and really looked comfortable in his extended ice time. Quenneville ended up moving things around later in the contest when the Hawks were having difficulty establishing offensive zone pressure, but it wouldn't surprise anyone to see him go with Frolik in that top grouping again Tuesday night.