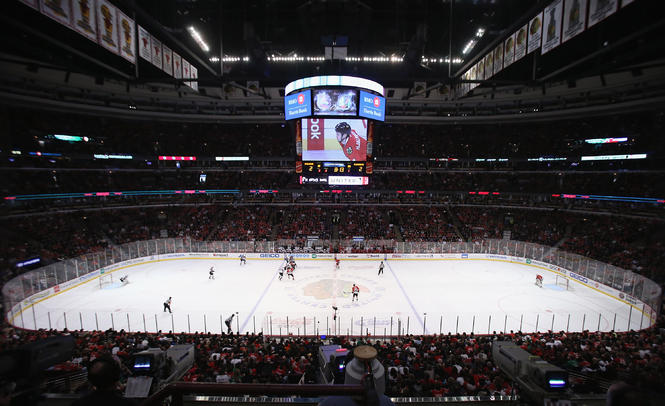 If there is one thing that all Chicago Blackhawks fans can agree on, it's this: the NHL schedule setters were not kind to the Hawks at the beginning of this season.
They started out by playing 10 of their first 12 games on the road, including trips to difficult arenas like Staples Center to face the Kings, Rogers Arena to battle the Canucks and the Shark Tank to battle San Jose. All the while, they kept racking up points, and despite the seeming efforts of the schedule makers to get them to stumble, the Hawks have points in all 24 games to start the campaign.
What about the second half of the season? Which games stand out on the schedule that could potentially trip the Hawks up? Here are three that stand out among the remaining 24 dates on the slate:

March 20 at Anaheim
Before the season, this game could have been considered flyover territory for the Blackhawks, but with the Ducks' hot start, this game is no longer a gimme. These two teams are currently 1-2 in the Western Conference, so it is definitely in the Hawks' best interest to gun hard for the two points in a tough road matchup to maintain the distance they've already put between the two clubs.
March 25 vs. Los Angeles
The Hawks played the Kings twice already this season, and the differences between the two games make this a matchup to watch. The first tilt took place after the Kings raised their Stanley Cup banner to the rafters of Staples Center, and the Hawks immediately came out and hammered LA into oblivion.
In the second game, on Hockey Day in America, the Hawks dominated again, but the Kings made a strong push back in the third period, coming within a goal of stealing the game from Chicago. The Kings have continued that strong play as of late and could end up being a strong contender for another Cup title by the time these two battle again towards the end of the month.
April 22 at Vancouver
Any game against the Canucks is going to end up being a big one, but this one up in the Great White North is especially important. It is likely by this time that the Hawks will have wrapped up a playoff spot or even the Central Division title, but the matter of first place in the West may still be up for grabs. This, along with how difficult a matchup the Canucks have been in both meetings this season, could make for an epic contest in the season's final week.