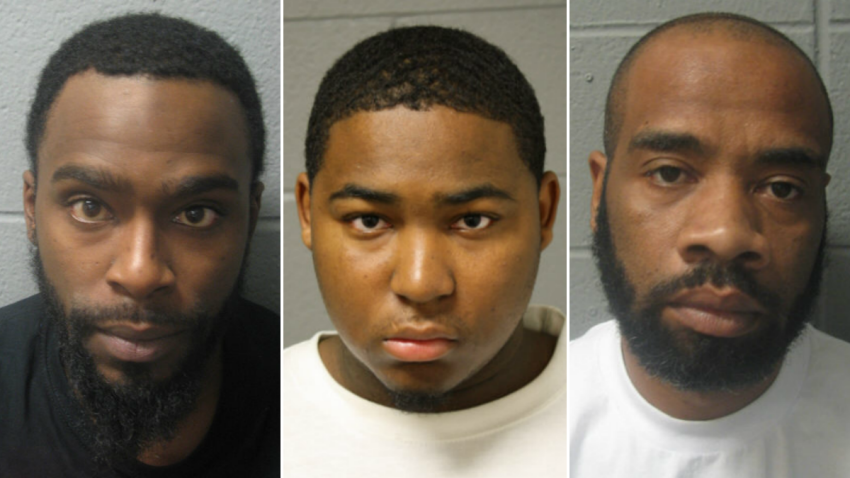 Three men have been charged with fatally shooting a man in west suburban Brookfield in January to keep him from testifying at a trial.
Comfort K. Robinson, 39; Jermaine E. Douglas, 25; and DeJuyon M. Johnican, 29, are all charged with first-degree murder for the death of 33-year-old Michael Smith, according to Brookfield police.
At 12:08 p.m. Jan. 27, Smith was shot in front of his home in the 3700 block of Forest Avenue in Brookfield, police said. His wife and 3-year-old son were inside, waiting to have lunch. His wife heard the gunshots, ran outside and called 911.
During the early morning hours of March 8, 2015, Smith was working a security detail at the now-shuttered Shrine nightclub at 2109 S. Wabash Ave. in Chicago, police said.
Robinson, a patron of the club, was involved in a disturbance and security intervened, police said. Robinson had a gun and was arrested by Chicago Police for several felonies, including being an armed habitual criminal and unlawful use of a weapon by a felon.
Smith was scheduled to testify as a witness in the court case against Robinson, police said. On the day of the murder, Robinson's case was set for a bench trial. A motion was presented by his defense to have a jury trial instead, which was granted.
Smith left the courthouse and was followed home to Brookfield, police said. When he pulled up in front of his house, and before getting out of his car, Douglas pulled up and fired multiple shots at point-blank range.
Smith was struck several times and was taken to Loyola University Medical Center in Maywood, where he was pronounced dead at 12:46 p.m., authorities said. His court subpoena was still in his pocket when he was killed.
Douglas took off in a blue vehicle, which was recovered by police the the next day.
Police said Johnican met up with Douglas and Robinson at different locations moments before and after the shooting.
Douglas, of the 7100 block of South Whipple, was arrested by Chicago Police on Nov. 15 after a chase ended in a crash at 87th and Ashland, police said. A loaded .50 caliber handgun was recovered after the crash.
Johnican, of the 1400 block of South 57th Avenue in Cicero, was arrested without incident near his home later Tuesday, police said.
Robinson, of the 2100 bock of South 13th Avenue in Broadview, has been in custody for several months on a separate felony charge, police said. He was arrested by Brookfield police and FBI agents upon his release from the Danville Correctional Center on Friday.
All three remain in custody at the Cook County Jail. Douglas was ordered held without bond, and Robinson and Johnican were each ordered held on $250,000.
"Michael Smith was a good man; a model citizen and hardworking family man who was killed in the prime of his life, just for doing his job. My heart goes out to his family and friends for their tremendous loss," police said in a statement.
Copyright CHIST - SunTimes