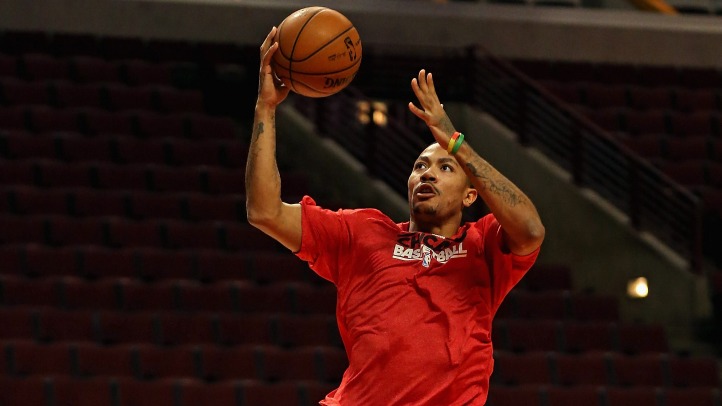 Compared to last year, the Chicago Bulls are entering the playoffs with a very different standing.
Last year, the team entered as the favorite for the conference until injuries sent them to underdog status.
This year the team is entering with the injuries that could keep them out of the lead as Derrick Rose will reportedly not return for the opener of the Bull's first-round series against Brooklyn Saturday and Joakim Noah suffered a setback in his recovery that could keep him out of Game 1 also.
Rose could very well not return for the rest of the season after coach Tom Thibodeau said the leading player is "most likely out" heading into the post season, according to the Chicago Tribune. But Thibodeau made clear the possibility that the former MVP may return is not entirely off the table.
The injury bug that bit the team this season didn't stop with Rose, however.
With Noah and Taj Gibson returning from foot and knee injuries, respectively, the Bulls were nearly at full strength against the Orlando Magic on Monday night.
"I thought [Noah and Gibson were] okay. A little winded, a little rusty. Taj seemed to pick up a second wind, so it was good. I thought both guys were very active. It was just good to have some depth, to have some guys you can play up front," Tom Thibodeau told CSN Chicago after Monday night's victory that marked Noah's return.
It is doubtful now that Noah will appear in Game 1 of the playoffs after a setback in his recovery from plantar fasciitis in his left foot, according to CSN Chicago.
The decision for whether or not Noah will be back on the court will be determined before tip-off Saturday, the Associated Press reported.
Despite not having Rose all season and being bitten by the injury bug at the most inopportune times, the Bulls have shown a surprising amount of resiliency. And even on the many nights where they've been forced to play shorthanded, the team has been competitive and proved to be a tough out for any opponent.
"For us, it's good to see Taj back out there and Jo back out there, and hopefully we'll go into the playoffs healthy. I just love us healthy. When we're healthy and we have the whole squad, we're a dangerous team," said Carlos Boozer.