Most Chicago Blackhawks fans my age or older will tell you that there was a time when the Detroit Red Wings weren't the prime enemy.

Sure, they were still loathed and mocked, as they had a worse Cup drought than the Hawks did, carried bigger goofs and goons than the Hawks did, and generally finished up the track as we did. But the Blues were just as big of a danger and just as unpleasant, if not more so.

The Minnesota North Stars carried like five guys who could barely talk or stand up but could throw a punch at the back of your head.

The Toronto Maple Leafs were still in the division when I was a kid, and they had the biggest tool of them all in Wendel Clark, who would distract you while Doug Gilmour hit on your underage sister.

Needless to say, the old Norris Division was a pretty colorful place.
But Detroit's ascension to the top of the aimed-crosshairs list started on Valentine's Day, 1993. The Hawks had had a ho-hum beginning to that year, as they were coming off a Final appearance and the regular season just wasn't drawing their attention. But at that point they had started to cook a little, going unbeaten in seven of nine heading into this game, and ascending to the top of the division, precisely where the Wings had been hanging out.

Things were going to come to a head this night.
As much as any Hawks fan has hated the Wings, you'll find few and far between who could hold that much disdain for their captain and leader, Steve Yzerman. There are just some players who rise above that emotion, and Yzerman was one of them. Though in the same class of talent as Mario Lemieux and Wayne Gretzky, Stevie Y was the only member of that class who played in both ends. Though his team was rife with jackasses and ne'er do wells, Yzerman was always classy both on and off the ice.
But man could he rip your heart out.
I was so excited for this game. It's about the age of 12 -- where I was -- that your passion spreads behind just watching your team. You know the standings, you know who the players on the other teams are, you begin to grow a feel for everything.

I knew at this point how big of a deal Wings-Hawks games were, and especially this one. I knew, for the first time, what a treat I should have been in for.
Should have been.
Yzerman tore the Hawks apart that night. Three goals, two assists. He capped it off by putting the Wings up 5-3 late in the 3rd, and ending proceedings, by undressing Karl Dykuis at the blue line so badly that every child at that game would talk about it on a therapist's couch in the future. It was perhaps the most dominating performance I've seen yet.
I walked out of there crushed. After all, this may have been the first game that I had perspective on, that I knew what it meant. And Stevie Y rained it down on my skull. And that's where the inferiority complex was born.

The year before, we swept the Wings on our way to the Final. But now, walking out of that building, it felt like Detroit was always going to be one step ahead, you could see their team budding, even though the Hawks went on to win the division that year (they didn't again until 2010).
And with that inferiority, came the bile, and the disdain.

For me, it was born that night.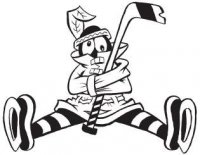 Sam Fels is the proprietor of The Committed Indian, an unofficial program for the Blackhawks. You may have seen him hocking the magazine outside the United Center at Gate 3. The program is also available for purchase online. Fels is a lifelong 'Hawks fan and he also writes for Second City Hockey .
Copyright FREEL - NBC Local Media