Blogging colleague John Schultz has done yeoman's work on diving into the Nick Leddy story over the past couple days.
He broke down the numbers behind the numbers behind the numbers for Leddy to explain why he'll ably fill Brian Campbell's skates.
Essentially, what Shultz argues is that Leddy's numbers look a little off because he started the season skating when Marty Turco was the primary starter, and Brian Campbell was still hurt. Turco's up and down performance led to some iffy numbers, as far as plus-minus and goals-against per 60 and such.
When you break it down to CORSI numbers, which only refers to shots directed at both nets, Leddy's numbers stack up well with Campbell. He was playing against the same level of competition, Coach Quenneville used him in the same way as Campbell -- i.e. starting him off with the draw in the offensive zone more often than not. With his 3rd period benchings, it threw off Leddy's numbers even more. But I encourage you to read the whole post.
However, this isn't baseball. You can't read the whole game by simply listing off stats (something the Cubs don't believe either, but that's another rant). You have to watch with your eyes. And while John rightly points out that you can see the similar skills -- the plus smooth skating, the passing ability, the confidence with the puck (at times), and an ability to get a shot through -- between Leddy and Campbell, you'd have to admit you rarely saw Leddy put them on display last year.
What you did see was a hesitancy, a lack of confidence to shoot, and man far too easily pushed around physically. All of these looked to be cured toward the very end of the Vancouver series. But a brief glimpse of brilliance in the playoffs doesn't automatically carry over to the next regular season. Cam Barker was the Hawks best defensemen in the 2009 playoffs (next to Campbell), and he's one step from being out of the NHL now.
These numbers encourage, but Leddy's going to have to do it in front of our eyeballs first.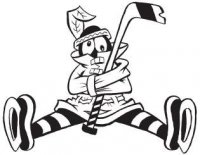 Sam Fels is the proprietor of The Committed Indian, an unofficial program for the Blackhawks. You may have seen him hocking the magazine outside the United Center at Gate 3. The program is also available for purchase online. Fels is a lifelong 'Hawks fan and he also writes for Second City Hockey .