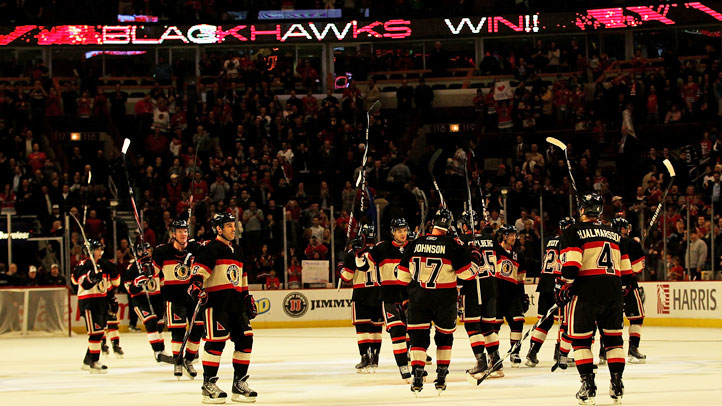 The Hawks never had an important regular season game last season. Sure, there were "statement" games but because the Wings struggled so badly last season, the division was wrapped up by the turn of the year.
The season before that, the Hawks wrapped up the 4th seed in the Conference without much more than blip in March that allowed the Canucks to challenge, and two games in late March that year that looked like a tilt for home ice in the first round.
That's not the case in 2011.
So these three games, against fellow inmantes of Cell Block Western Conference, are about as big as the Hawks have seen in the regular season in years.
Monday vs. San Jose: Will have more on this later with today's game preview, but this is the last team the Hawks want to see after a tiring effort yesterday. The Sharks have been on fire for two months now, going 17-2-3 to vault into the Pacific Division lead. They've also won every game against the Hawks this season, maybe having a little to do with leftover emotion from getting mud-stomped in last year's Conference Final. So hoping for a team that might take a night off tonight is definitely in the forlorn category. The Hawks will also be seeing perhaps the hottest goalie in the league in Antti Niemi, who's been a ptich-back to just about any shot he's seeing. But they saw an equally hot goalie yesterday in Braden Holtby and got three past him.
Thursday at Dallas: It's going to be fascinating to see what happens to the Stars over the next couple games. Yesterday, in a crucial battle with L.A., the Stars huffed and puffed and finally tied the game at 2 with 40 seconds to go. But then they spit up all over themselves and gave up the winner 20 seconds later, resulting in a loss that would be the very definition of a kick to the groin. Marc Crawford teams have never had a reputation for being mentally strong, and a collapse off a loss like that would not be a unique occurence. Hopefully the Hawks get to see that. But they've had their struggles with Dallas all year, so that probably won't go down easy like a cold beer on a hot Christmas morning either.
Sunday at Phoenix: Most certainly the Hawks bogey team, as they've only managed to beat the Yotes twice in 7 meetings this season. A quick team with defensive discipline that the Hawks just can't seem to get around, the Yotes just aren't going anywhere (at least until the summer when they head back to Winnipeg). But the Hawks will need these two points, and with another strong visiting crowd doing the double dip with Cubs and Sox spring training, they'll have to find a way.