The Chicago Blackhawks reached an agreement with Center Patrick Sharp on a five-year extension to his contract that was due to run out next summer.
Those who were hoping to cash in on the kleenex, chocolates, and rom-com rentals that would have flooded the market as Chicago area women mourned his possible exit will have to start building new business plans today.
The deal will reportedly carry a$5.9 million cap hit per season, beginning in the 2012-2013 season. The deal is a good thing because it immediately erases what could have been a pretty big distraction during the season. Sharp wouldn't have been the first to see his play affected by contract negotiations, and now neither he or the Hawks have to worry about that. Second, nor he or Stan Bowman will face a constant barrage of questions about it, nor will his teammates. That's good.
And quite frankly, it's hard to improve as a team if you let player like Patrick Sharp walk the plank. There are few more dynamic players in the league, because when you think about it it's hard to name guys who can be as lethal a sniper on a wing and then seamlessly move to center and be one of the better two-way pivots around. And Sharp can do that, we saw it in 2008-2010. Last year there was a bump in the road where he started shirking his defensive responsibilities as a center as he looked to gun up ice and get the whole Good Time Boys act going with Patrick Kane. But Sharp wasn't the only one not on full tilt last year in his own end, and we can all expect that to change this year.
Quite frankly, Sharp gives the Hawks options. If Marcus Kruger can't fill a role with the big club, Sharp can play center and give the Hawks the same look down the middle that took home The Chalice. If Kruger can, Sharp goes back to wing where he's poured in over 30 goals twice. It's a nice problem to have.
And Sharp's a presence in the room. We don't know how much of a voice he carries, but he is older than a lot of the team and hopefully will step up his leadership this year. He's perhaps the most popular Hawk among other Hawks. This is not to be discounted as this is a collection of players that has watched probably too many of their colleagues head to the exits.
Quite simply, Sharp would have been too hard to replace, and brings too much to the table. And he can continue to do so for five more years.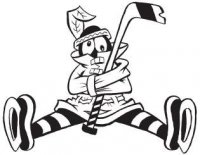 Sam Fels is the proprietor of The Committed Indian, an unofficial program for the Blackhawks. You may have seen him hocking the magazine outside the United Center at Gate 3. The program is also available for purchase online. Fels is a lifelong 'Hawks fan and he also writes for Second City Hockey .