Eight games in, close enough to a tenth of the season down to take a look at what was the big story out of training camp. That's Patrick Kane at center. The point totals are there, as are the highlights. We know he's even been better than .500 at faceoffs, which I don't think anyone saw coming.
He's a +4 and has a plus rating in Behind The Net, so he's clearly a force for good. But I thought we'd peel back the curtain a bit and see what his matchups have looked like. I went back through the eight games and saw which center on the other team he matched up with most and what his CORSI number was. For those who may have forgotten, CORSI number is the number of shots the player's team attempts while the player is on the ice vs. the number of shots taken against while the player is on the ice, all at even-strength.
For example, if the Hawks attempted 10 shots while Kane was on the ice (that's attempted, so on-net, blocked, and missed the net are all counted) while the opponent attempted eight. That would give Kane a CORSI of +2. It's a decent measure to see where players are spending a majority of their time on the ice, attacking or defending. Here's the list:
+5 vs. Mike Ribeiro (at Dallas)
-2 vs. Jamie Benn (Dallas)
+1 vs. Nik Antropov (Winnipeg
+6 vs. Tyler Seguin (Boston)
+8 vs. Phoenix (no clear matchup)
Even vs. Matt Duchene (at Colorado)
-2 vs. T.J. Galiardi (Colorado)
+8 vs. Saku Koivu (Anaheim.
So what do we see here? Well, it's not a murderer's row of centers against. Among them, only Jamie Benn is a true +1 center, and what's interesting about that is that Coach Quenneville chose that matchup at home in the United Center.
Kane did end up with an assist that night but lost the CORSI battle. Antropov stopped caring long ago, and Seguin -- while on fire to start the season -- was only filling in at center due to injuries on the Bruins. Phoenix didn't bother to match lines, and Kane went nuts. Then again, Phoenix doesn't really have anyone to counter Kane, but they'll probably try something else nex time they meet. The only team that's strong down the middle the Blackhawks have encountered is Colorado, who have three plus pivots. On the road, the Avs tried to throw Matt Duchene at Kane, and they basically battled to a draw.
However, at home, Kane was thrown out against T.J. Galiardi, who is Colorado's checking center. And it didn't do Kane any favors. When getting a look at the aging and slowing Saku Koivu, Kane raced right past him.
What can we learn? Well, Kaner has only seen one true checking center in Galiardi, and he kept Kane under wraps. He also has only seen one true #1 center and that was Jamie Benn, who kept him busy on defense. Kaner had been somewhat protected by the coaching staff. From this scant evidence, we can see that Kane will still have some challenges when facing a more than competent checking center or a genuine attacking threat.
We'll know more after the Circus trip, when Kane's assignments aren't chosen for him by Joel Quenneville. Specifically, Messrs. Ryan Kesler, Joe Pavelski, and Anze Kopitar will be waiting on that trip. But I think we can see it's encouraging enough to stick with.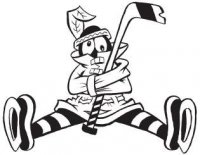 Sam Fels is the proprietor of The Committed Indian, an unofficial program for the Blackhawks. You may have seen him hocking the magazine outside the United Center at Gate 3. The program is also available for purchase online. Fels is a lifelong 'Hawks fan and he also writes for Second City Hockey .