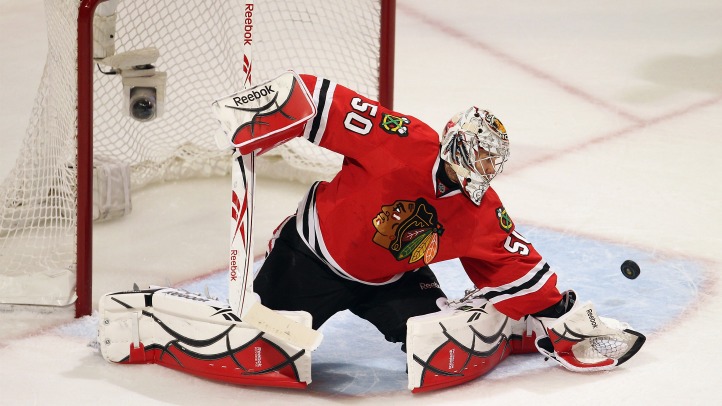 We'll take a break from player reviews today to take a brief glimpse ahead. As with everything in hockey these days, the signing of Corey Crawford is but a mere domino as the Hawks reshape their roster for next season (and Mongo merely pawn in game of life). Where do the Hawks stand now.
Well, with Crawford's $2.6 million cap hit locked in, the Hawks have 15 players locked in for next year at a total cap hit of 53,681,336. With this year's ceiling, that would leave them with 5.7 million in cap space. Ah, but we won't be dealing with this year's ceiling, will we? There have been various reports as to what the cap will jump up to. We know that it's probably assured the players union will invoke their right to bump it 5%, which they can do every season. That in itself would bump the cap to 62.37 millon, leaving the Hawks with 8.67 million in room to sign 5-7 players. Let's assume that the cap will bump slightly more than that, to about 64 million. There have been some estimates it will go higher than that, but we won't know for sure until the Finals start in a week or two when commissioner Gary Bettman gives his State of The League address.
With that 64 million figure, the Hawks would then have 10.3 in space or so. If we remove Marcus Kruger from the lineup -- and you should because he hasn't proven he's an NHL-er yet and the Hawks need a bigger upgrade at center than that -- the Hawks have 11.2 in space.
It sounds enticing, but the Hawks have their own loose ends to tie up before you can start salivating over that space. Let's play some fantasy hockey here and zone in on four free agents the Hawks should keep, at least in my eyes. They are Michael Frolik, Troy Brouwer, Viktor Stalberg, and Chris Campoli. They are all restricted free agents, and to keep them in that status they are due a qualifying offer. What that means is that the Hawks have a minimum salary they have to offer them in order to keep their right to match any offer sheet they might get from another team. In Brouwer's, Stalberg's, and Frolik's case, it has to be 5% more than their salary was this year (not including bonuses). Campoli, because he made over a million this season, is only due the same offered salary.
If all of them came back with these offers or so, the Hawks would have somewhere between 5.5-7 million in space to find a couple forwards and perhaps one defensemen. Sadly, they probably won't come in that cheaply. Brouwer especially will make more than the $833,000 he would be due in a qualifying offer, and Frolik is coming in at higher than 733K. Stalberg probably can be had for right around a million. It's up in the air with Campoli. So the Hawks more likely will only have about 3.5-5 million in space to find those parts, unless the cap goes up more than the 64 million we're calling for here. Moving a piece off the signed roster may be necessary.
If you want to play your own fantasy hockey, I highly suggest going to Cap Geek's Cap Calculator. It will assuredly get you fired.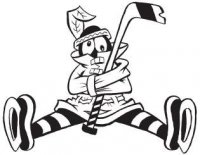 Sam Fels is the proprietor of The Committed Indian, an unofficial program for the Blackhawks. You may have seen him hocking the magazine outside the United Center at Gate 3. The program is also available for purchase online. Fels is a lifelong 'Hawks fan and he also writes for Second City Hockey .