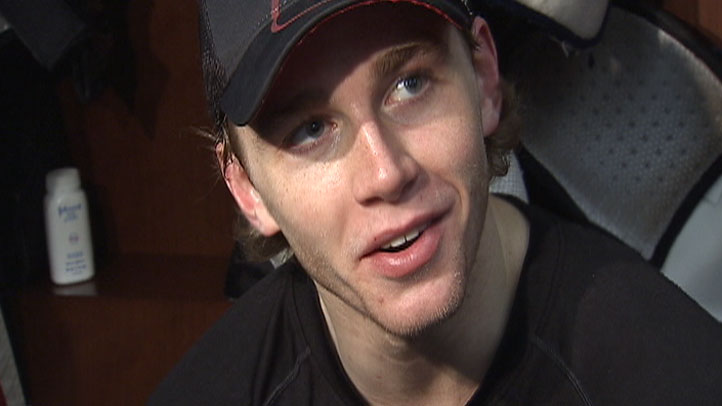 Two points from Wednesday night's preseason game that probably deserve a little more in-depth discussion:
-The hit on Ben Smith. Chris Block, our colleague at The Third Man In has a pretty good write-up on this, and I'm not sure I can add much more. The comments of Wings coach Mike Babcock are sure to enrage Hawks fans, but what is he supposed to say? If he hangs out his player to dry it probably only adds to his suspension, and players want to know that even when they're wrong their coach will have their back somewhat. And the thing of it is, Babcock isn't totally wrong here. Brendan Smith picked an angle, a point, a direction, whatever term you want to use, and that angle quickly changed when Ben Smith made that toe-drag move. Now, that ignores that the Wings defender played this horribly. He got sucked too far over to Dave Bolland's side, leaving Ben Smith (this is getting dizzying now) that lane to the net. Then he crossed his skates over, meaning he was facing Smith instead of up-ice, leaving himself vulnerable to be completely undressed by said toe-drag. So he chose the worst possible option for a defender, the all-or-nothing kamikaze dive into the player, which he was basically beaten by. So essentially, incompetence led to the recklessness.
You could argue that. But if you watch the hit again, Brendan Smith reaches out his elbow and arm when the Hawks' Smith gets around him. I'm sure it's just a reflex, as if a player gets around you you probably don't say, "Oh wow, nice move there." Not if you're trying to make the team, at least. But still, if it's not malicious but more accidental, it's reckless. And as Chris says, he wasn't trying to play the puck at all. Most body checks are a way of playing the puck, this wasn't. Sadly, it'll cost the Hawks more than it'll cost the Wings, no matter the suspension.
-Patrick Kane at center. As some have pointed out, it may have been overblown. Offensively, it actually doesn't matter that much who's playing where, as the Hawks system is much more based on who has the puck entering the zone and who's second and third in. When there's a cycle going down there, everyone's everywhere. The only thing that marks Kane out as a center is face-offs and his defensive assignments. And quite frankly, we won't know about that until he gets to face real NHL competition, not the Grand Rapids All-Stars of last night. Sure, his face-off numbers look good, but would they if that was Datsyuk and Zetterberg he was facing?
What excites Hawks fans is that Kane is the player that Marian Hossa has been screaming to play with regularly. He's got the hands and the vision to get Hossa the puck in those scoring areas that the Slovakian is so deadly from, and you saw it last night (though they both tried to get far too cute far too often). If Kane can even be passable at draws and in his own zone, then this could go some way.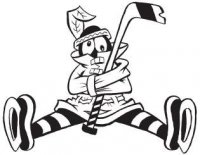 Sam Fels is the proprietor of The Committed Indian, an unofficial program for the Blackhawks. You may have seen him hocking the magazine outside the United Center at Gate 3. The program is also available for purchase online. Fels is a lifelong 'Hawks fan and he also writes for Second City Hockey .