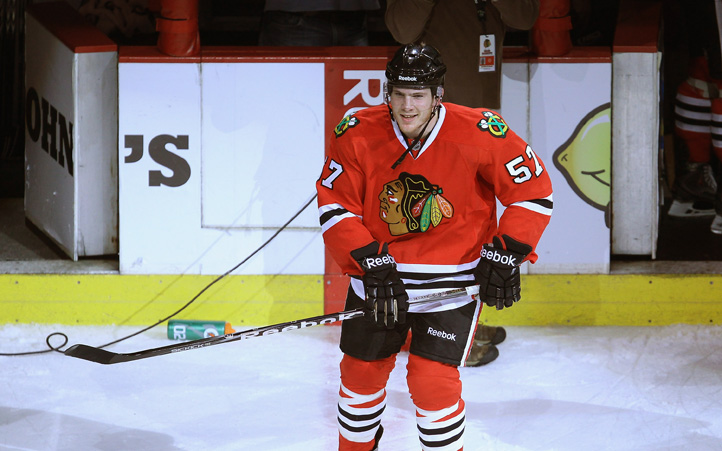 Well, at least the Hawks didn't wait to give their staff and fans a headache. Couldn't even manage one game, boys?
The news from practice is three-fold. Brandon Pirri has been recalled, Dave Bolland is skating but not with a line, and Ben Smith is on the injured list.
We'll deal with the casualties first. No one has any idea what Bolland's injury is, but it looks likely to at least keep him out of the opener tomorrow night. No word on if he's traveling down to Texas or not, we'll just have to wait. But he's not skating with his normal linemates in Michael Frolik or Bryan Bickell, that's where Pirri is. Unless he miraculously recovers from what's ailing him on the plane down to Dallas tonight, he's not going to have enough practice time to play.
Ben Smith was put on the injured list, which opens up a spot for another call-up should the Hawks need it. It means a minimum of two weeks out, but that can be back-dated to his last game, which was a week from yesterday. All that means that Smith will miss the weekend, but is eligible to play in the Hawks third game against Winnipeg a week from today. No reason to not take every precaution this early in the season.
All of this is jumbled by Dan Carcillo's suspension which keeps him out for the weekend. So the fourth line is now without two of its starting components. This probably means Jamal Mayers playing center on it this weekend with Rusty Olesz on one wing. Who's on the other is anyone's guess at this point.
All of which led to Brandon Pirri's recall. Pirri had just about the most impressive camp for anyone outside the team to start. He's got some things to work on, and the fact that he's playing with the checking line is curious because his defensive game could use some help. But for two games against what should be a bottom-feeding Western Conference team, Pirri can certainly do a job and create a little bit with Michael Frolik. He very well may get himself some power play time on the second unit as well. Big chance for the kid.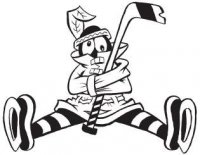 Sam Fels is the proprietor of The Committed Indian, an unofficial program for the Blackhawks. You may have seen him hocking the magazine outside the United Center at Gate 3. The program is also available for purchase online. Fels is a lifelong 'Hawks fan and he also writes for Second City Hockey .