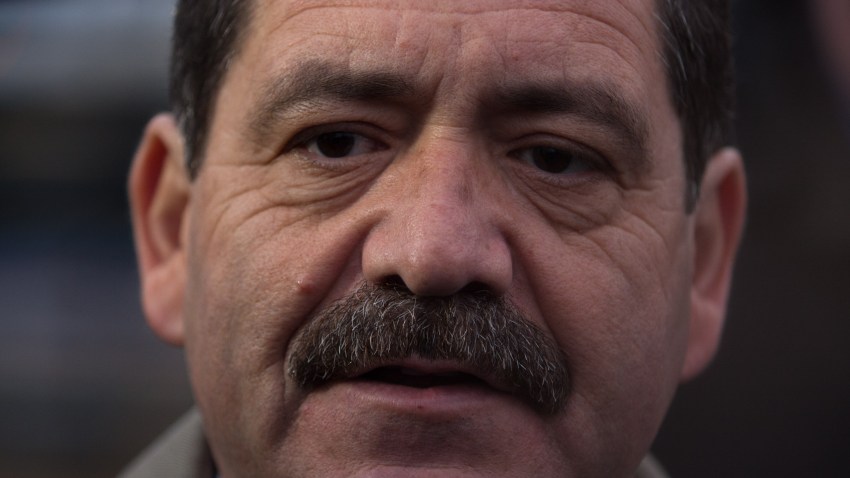 Things didn't go too well for Cook County Commissioner Jesus "Chuy" Garcia on Election Day in his runoff bid to become Chicago's next mayor. Before then, however, a great deal did for the challenger.
Though Garcia ultimately lost to incumbent Rahm Emanuel, the Mexican immigrant forced the most competitive Chicago mayor's race in decades. He did so without much name recognition, or money, and with an absurdly late start last October.

Latinos throughout Chicago have rallied around a candidate in a way we haven't seen since Harold Washington ran for mayor. Neither Miguel Del Valle nor Gery Chico were able to secure broad Latino support in their bids to become mayor four years ago the way Garcia did this year.

In the end, Garcia's vote-getting was still surprisingly impressive. He got just over 44 percent of the vote, excluding whatever the returns are from approximately 10,000 absentee ballots received this week that are still being reviewed.

All of this means that Garcia is well-positioned for another mayoral run in four years. After all, Chicago's problems are unlikely to get fixed in the next two to three years, so there will be plenty desire for change and improvement left in 2019.

Garcia supporter Jesse Jackson Sr. told NBC Chicago on Tuesday night that "battles like this are not won in one election."
"Emanuel had a lot of advantages," Jackson Sr. said. "Including White House support and nearly $30 million dollars. Garcia has awakened a lot of sleeping support."

Famous and well-financed incumbents are rarely unseated by anything less than a true movement, embodied by a uniting opposition candidate. Garcia never had a chance of building a complete movement with a late October start, but he could conceivably do so by 2019.

Garcia should warm his campaigning skills up in 2018 when he'll be up for a third term as Cook Counting Commissioner. Realistically, however, he needs to begin his second campaign for mayor sooner.
Right now Garcia is as celebrated as an election loser can be. To build on that momentum, here's what he needs to do:

Register new voters

When then-U.S. Rep. Harold Washington was first asked to run for mayor of Chicago, he told his recruiters to slow their roll: Go out and register tens of thousands of new voters first, and then come back and talk to me.

The savvy Washington knew that no underdog candidate had much of a chance of getting a winning slice of an existing pie. In order to have a chance of wresting control from established city leaders, new voters needed to be added to the rolls.

Washington's supporters went out and registered about 100,000 new voters. He ran and won in a razor-close election. Garcia needs to organize to register loads of new voters who he would hope would then turn out for him if he runs for mayor again.

This approach literally creates new voters for a candidate, and generates energy and excitement.
The latter two items were the centerpiece of Garcia's campaign but they didn't hit anywhere near a critical mass, as evidenced by the usual anemic voter turnout.

Garcia didn't have time to make a real voter registration effort since he didn't know he wanted to be mayor until just a few months before the Feb. election. If he wants to make a more serious effort four years from now, new voter registration needs to be a centerpiece of his strategy.
Raise money

Hopefully, Garcia has already been working the phones and taking meetings with the labor unions who eventually put some good money behind him. He'd likely be outspent by Emanuel again should they rematch in four years, but Garcia can't afford to have quite such a bare-bones campaign once more.

Garcia needs to convince labor unions to continue supporting him right now so that he can do what Emanuel does – steadily fill his campaign coffers year-round, every year. Garcia still needs to get better known by Chicago voters, and expensive television commercials will be helpful for that task.

Additionally, the crucial voter registration effort needs money to back it.
Garcia needs to re-double efforts to reach out to new funding sources – in and out of the city – now that he has a national presence, and has proven that he's a viable candidate.

Continue to criticize Emanuel

Garcia needs to continue to be the voice of criticism directed at Emanuel. Taxes are likely to continue to go up, city worker pension benefits will likely continue to be cut, schools will continue to be underfunded, and crime will continue to ravage our communities.

There will be no shortage of issues for Garcia to hit on, and he needs to. Newspapers will publish Garcia's opinion articles, so he should keep writing them.

Television shows will have Chicago's new highest profile Latino elected official, so he should go on as many of them as he can. Doing so will help him get his message out and continue to improve, rhetorically.

No serious challenger has the luxury of easing off of their opponent. Garcia needs to continue to pitch a large tent for Chicago voters who feel discontented with their mayor, and he'll do that by being their voice of constructive criticism.

Use his elected office to help Chicago

Garcia has the benefit of actually having a job, right now. He may not be mayor, but he is still a legislator in one of the nation's largest bodies of government.

Garcia is Cook County President Toni Preckwinkle's floor leader, and they should be meeting right now to work out a strategy where the commissioner can continue to raise his profile by spear-heading efforts that will specifically help Chicago residents, whenever possible.

If Garcia focuses, he can continue to build a record in Cook County, and have it well-publicized. That will help him if he runs for mayor again in four years, but only if he also…
Develops an alternative, truly balanced city budget

All through his campaign, Garcia took the same "trust me" approach that voters were weary of, when it came to specific plans for how to get Chicago on more solid footing. Garcia was not able to simply ride wave of anti-Emanuel sentiment into City Hall's fifth floor, and his strategy of vague or incomplete proposals failed.

Garcia should have learned that you can't blame an incumbent for a financial mess and criticize them for their fuzzy math when it comes to budgets, if your numbers don't add up any better. Chicago voters will go with the known commodity almost every time, in that type of situation.

If and when he runs for mayor again, Garcia should have a complete and truly balanced budget proposal ready to present to voters. Such a budget would doubtless include an increase in property taxes, but if he balances those with details of how city services will be added and improved, it could convince voters who currently don't view him as competent in financial matters.

In four years, Garcia will likely be able to point to an incumbent who has overseen increases in taxes, with no broad increase in city services, and who has also further indebted Chicago. That will be powerful, and having a serious, complete, alternative plan will be even more so.

If Garcia goes through another campaign saying "I don't know," and "I can't answer that yet,"whenever budgets come up, he'll have a rough time doing any better than he did this time. If he can point out the places Emanuel has mislead Chicagoans and then talk straight with a detailed plan to voters, he'll have a real shot.