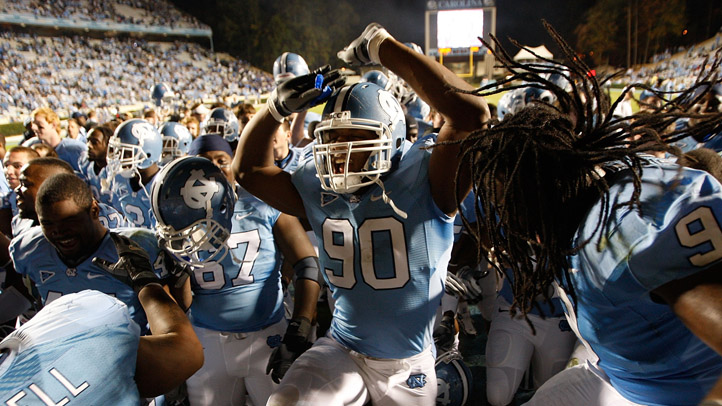 It's draft week! Aren't you excited? It's not quite actual football, but there will be new Bears to talk about and strategy to discuss and scenarios to imagine. It's draft week.

It's also a good time to check in on the Emery Board and look at a player who seems like he could be a good fit with the Bears, but under closer examination, isn't worth a first round draft pick. Defensive end Quinton Coples from North Carolina is getting plenty of buzz going into the draft, but who some draft experts have legitimate concerns about.

In his senior year at North Carolina, Coples had 59 tackles and 10 sacks. Considering his size, position, and alma mater, it's easy to make comparisons between Coples and Julius Peppers. However, Greg Cosell from NFL Films shoots down that comparison:
He's not the athlete Julius Peppers is. He doesn't have the elite speed and athleticism you ultimately want in a 4-3 edge rusher. That's not his game. If he is to reach his potential, he will become a speed/power guy, and the power would be the number-one thing. That would then transition to some speed just to get him around the corner.
It's not that Coples is not worth drafting. He can break free and get to the quarterback, and he has the speed to wreak havoc on an offense. He has potential to be a great defensive end, but isn't the kind of sure thing who is worth taking in the first round of the draft. He needs work and won't be able to help the Bears pass rush right away, which is what the team needs.
If the Bears intend to address the defensive line in the first round, there are better options than Coples.
<a href="http://

<a href="http://

News breaks at inconvenient times. Stay tuned to NBCChicago wherever you go. Download our iPhone and iPad apps, now available on the iTunes App Store. Get your iPad App. Get your iPhone app.
Copyright FREEL - NBC Local Media