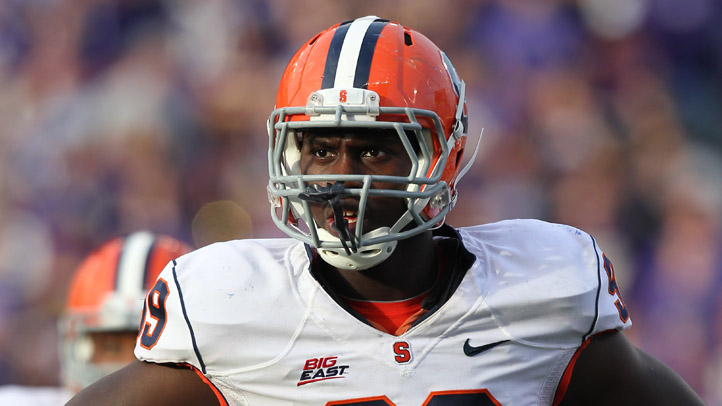 Hey Phil, the draft is just two weeks away! Can you feel the excitement?
Draft fever -- catch it!
OK, you're right. Draft fever sounds like an actual illness that swept through the lower west side in the 1850s. We'll come up with another term. In the meantime, let's talk about Chandler Jones, the defensive end from Syracuse who is coming to visit Halas Hall.

The crazy thing to remember about Jones is that while he is being projected as a first or second-round draft pick, he is not the best athlete in his family. His oldest brother Arthur is a defensive end for the Baltimore Ravens, and his older brother Jon is the UFC light heavyweight champion. Still, Jon says Chandler is the most gifted.

"He is destined to do something great. Me and Arthur are trying to keep up with him, because we know he's going to catch up real fast," Jon said in an interview a year ago. Perhaps Jon knew that his brother would have a standout season at Syracuse and shoot up draft boards.

Jones can get an edge with the combat that happens at the line. He can push around and beat offensive lineman on the inside. He is listed at 6-foot-4, 265 lbs., so he's lanky and has plenty of room to add muscle so that he can deal with the extra-large offensive lineman of the NFL. Mike Tanier of Yahoo! Sports says Jones could be overlooked because of his (lack of) size, but shouldn't be:
He's the kind of defender that disrupts blocking schemes so others can record sacks, or hustles his way into clean up sacks when edge rushers flush the quarterback his way. Jones is easy to overlook because we clump elite defensive line prospects into super-quick rush ends and 300-pound monsters in the middle. Jones offers something very useful in between.

So go ahead, Phil. Add him to the board, or his brother might throw an elbow your way.
Copyright FREEL - NBC Local Media