Generally, it's Labor Day or right around there when the hockey daydreams start.
Summer's coming to an end, NFL season opens, and you know there's something else going on. There are skates on the ice, the loud thud of vulcanized rubber against wood.
By now, you've cleared the nightmares of last season out of your head. You no longer see Patrick Sharp finding Roberto Luongo's chest in OT of Game 7. You don't see the Campoli turnover -- because you won't let yourself remember what came next.
You've stopped wondering how they could fritter away those games in February to Columbus or Minnesota or Dallas or whatever else they did as they told you everything would be ok. You no longer think, "What if this had happened?"
No, right about now, after all the moves have been made the rosters look set, after all the quotes are in and the contracts signed, after all the experts have chimed in and made predictions based on nothing but lines on paper, you only look forward.
I see you there, at your desk, with assignments pilling up, and all you're doing is trying to figure out if Kane and Toews play on the same line this year. I know, with a boss wondering where this or that is, you're configuring your own power play units. You head to the break room, wondering if at some point Steve Montador will light up Alex Burrows.
You drink your coffee, perhaps pretending to read the paper, but you're thinking about the first visit of Vancouver, or your first game at the United Center this season. Midseason trades, injuries, Kane wonder-goals, Toews-determination, the frustrating losses, the OT winners, the following of the standings. You're doing it all, right now. I know.
Winter is coming. Smile.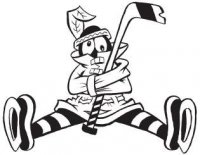 Sam Fels is the proprietor of The Committed Indian, an unofficial program for the Blackhawks. You may have seen him hocking the magazine outside the United Center at Gate 3. The program is also available for purchase online. Fels is a lifelong 'Hawks fan and he also writes for Second City Hockey .