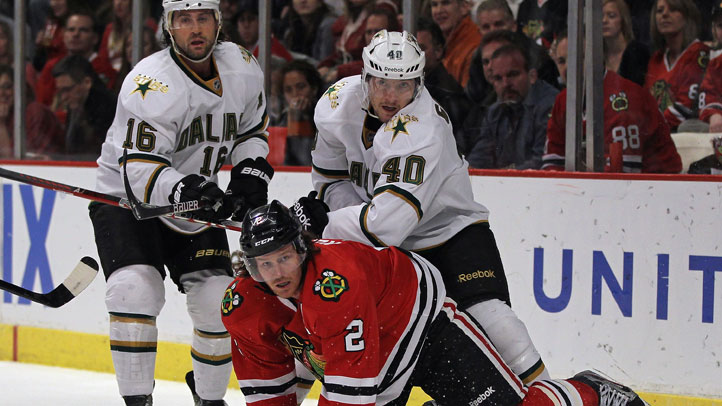 Even though it was not said out loud, there were all the makings of a trap game for the Hawks last night. This doesn't excuse the loss, but it might explain it.
The team had just come off two rollicking wins against their biggest division rivals. There was the relief of emerging from the losing streak. There's a road trip following this one immediately. Trade winds are blowing. Somehow, the actual game got lost in the mix last night.
The Hawks were stout defensively for 50 minute, but the main problem was they failed to put the Stars away in a 2nd period and the first half of the 3rd when they still had control. Worse yet, they never really threatened to do so.
After getting their only goal through work -- furious fore check, force a turnover, charge the net like it was offering free beer -- they failed to put forth the same effort to find a second goal that would have surely ended proceedings. Once again, it was more of the pretty plays and slick passes that simply were not on the order of the day.
Usually late in a hockey season, a one-goal lead means that a desperate team only needs one mistake or bounce, or both, and suddenly they're tied with all the energy. This was the tale last night, as Marian Hossa missed a clear, didn't really pursue Trevor Daley's nifty movement on the blue line to get a shot to the net with Steve Ott deftly tipped home. Anticipation for Hawks response hung in the air, but it never came.
Then the over-burdened Nick Leddy ignored his crease-duties, as he will do from time to time, opening up the chance for the Stars to take the lead. The Hawks couldn't muster a response then. Again, it is not acceptable, but it is explainable.
What really matters is how the Hawks respond after this, because the two games in SoCal are on the road, where the Hawks have sucked, against very desperate teams. They can't just show up and act entitled this time. Get through this unscathed, and we'll quickly forget about this loss.