First thing we learned is that the Internet is still relatively new is Saskatoon, based on the quality of the video feed we were all treated to last night.
But besides that, the Hawks -- or some of them anyway -- actually laced up the skates and put on real jerseys and everything last night to kick off the preseason. The early preseason games are hard to make anything out of, as there are a bunch of guys on both sides who aren't going to be around long. And those that will be around are playing with them and affecting them in other ways and it's all kind of a mess. But whatever, it's hockey to watch, and that ain't bad.
Anyway, brief thoughts:
The big winner of the night, and camp overall so far, is Rostislav Olesz. He clearly has worked well with Jonathan Toews, although that can't be all that hard because Toews will do most of the work for you, and last night was no different. But Olesz always seemed in the right spots in the offensive zone, available for a pass or a chance, and netted a nice goal after an Oilers giveaway. He's bigger than I thought, but also mobile, and if he can use those two things he might make a real dent here in Chicago. But a long way to go before we declare that.
Why oh why did the Oilers every go away from their vintage jerseys? Those things are awesome.
Both Alex Salak and Ray Emery looked all right in their first auditions in net. Emery made some big saves in the 1st period, but Salak looks really big in the cage and a little more controlled. And we know the Hawks love goalies under control.
Brandon Saad continues to impress, and does Phillip Danault. Both will be heard from in two years, if not next year.
Mark McNeil actually impressed me for the first time, and set up Jamal Mayers's goal.
Anyway, that's about it. The next time we'll see the Hawks on ice is tomorrow in Pittsburgh.
-Correction Dept.: On August 30th I wrote a post about a piece from Neil Greenberg on ESPN that made the argument that Michael Frolik could break out for 30 goals this year. However, I wrongly attributed it to Hockey Prospectus. I apologize, and the change has been made.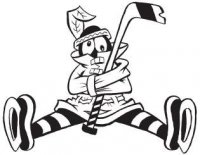 Sam Fels is the proprietor of The Committed Indian, an unofficial program for the Blackhawks. You may have seen him hocking the magazine outside the United Center at Gate 3. The program is also available for purchase online. Fels is a lifelong 'Hawks fan and he also writes for Second City Hockey .