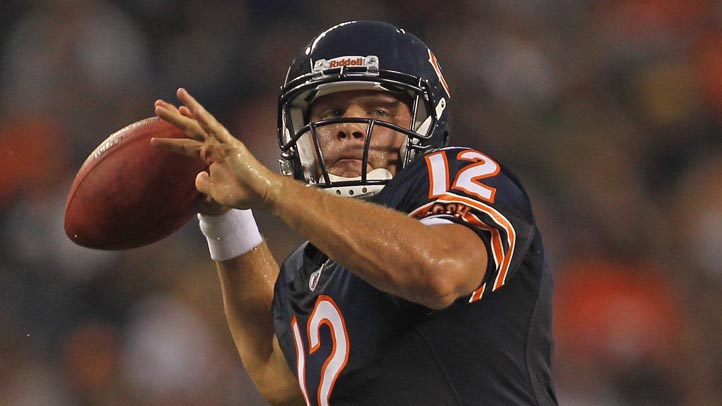 The last pre-season game is meant to let back-ups take some reps and the rookies and veterans on the bubble show what they are capable of. Who stuck out in the Bears win over the Browns?

Caleb Hanie: Lovie Smith said that Hanie will be the back-up unless his arm falls off, but there was always a feeling hanging over Hanie that he still needed to convince his coaches. If last night's performance didn't do it, nothing will. In two drives, he went 7-10 for 83 yards, including a touchdown passes that threaded through two defenders directly into Johnny Knox's hands.

Nick Reed: His numbers alone should impress you: three tackles, a sack and two broken up passes, but the numbers don't say enough about his effort. He was all over the field, pressuring the QB, making big plays on special teams and just working his tail off to show he belonged on the team. It was so impressive that we don't even holding penalty that negated Dane Sanzenbacher's TD against Nick.

Robert Hughes: Kahlil Bell tweaked his ankle near the end of the first half, opening the door for Hughes. The Chicago native and ND alum took advantage of the opportunity, gaining 69 yards on 16 carries and scoring two TDs. It's still an uphill battle for him to make the roster because of the Bears glut of running backs, but it's nice to see a hometown boy score at Soldier Field.

Dane Sanzenbacher: If you couldn't pronounce his name at the beginning of the game, you should have no problem by now. His number was called on offense and special teams. He made four catches for 50 yards, plus five punt returns for 31 yards, not including the 60-yard touchdown return that was called back. The Buckeye may have earned a roster spot with that performance.

Deron Minor: Anyone who turned off the second half of the game missed nice work by Minor, a linebacker out of McNeese State. He managed four tackles and an interception that showed strong field awareness and instincts. Like Hughes, it will be tough for him to make the roster, but the practice squad is a possibility.






Copyright FREEL - NBC Local Media