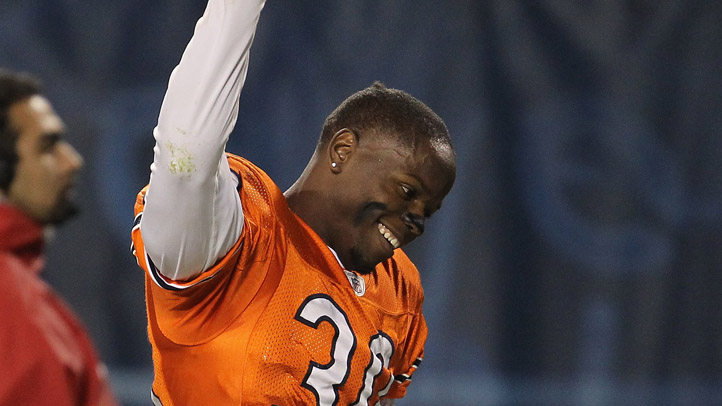 The Chicago Bears are encouraging fans to send in questions to cornerback D.J. Moore as part of a know-your-Bears push on the web site.
It's a cool way to get to know the player who will soon start his third season with the Bears.

You can ask him things like, "When you were ejected from the Bears game in Detroit, did you go back to the locker room and play video games?" or "Where does one get a question mark so artfully cut into one's hair?" or "Where are the best places to eat in Spartanburg, S.C.?"

But why stop with Moore? Hopefully, the Bears will continue this trend. There are so many questions that need to be answered. For example:

Jay Cutler, where do we get those cool red pants? Oh wait. You've already answered that. OK, where are you and Kristin registered for your bundle of joy?

Earl Bennett, can we go shoe shopping with you? Do your skinny jeans ever cut off circulation in your legs?

Lovie Smith, you don't ever seem to smile. What makes you smile? Ice cream? NO? C'mon, Lovie. Ice cream makes everybody smile.

Julius Peppers, could you take Derrick Rose in a game of one-on-one? Deng? Carlos Boozer? Oh please. You could take Boozer.

Israel Idonije, since you grew up in Canada, are you a fan of poutine? Have you found any good poutine in Chicago?

Brian Urlacher, what size hat do you wear?

Blake Costanzo, welcome to Chicago. Do people call you George Costanza often? Is there any circumstance where that is still funny?
<a font-family:="" href="http://

<a font-family:="" href="http://

News breaks at inconvenient times.Stay tuned to NBCChicago wherever you go download our iPhone and iPad apps, now available on the iTunes App Store. Get your iPad App. Get your iPhone app.
Copyright FREEL - NBC Local Media