A Chicago grocery store owner who appeared briefly on the season premiere of "The Bachelorette" Monday night will be walking down the aisle—the produce aisle, that is.
After last season's controversial "Bachelor" ending, "The Bachelorette" kicked off Monday with some much-needed redemption for Becca Kufrin, but the episode quickly sent many fans into a Twitter frenzy.
Inside the Famous Home From "The Bachelor"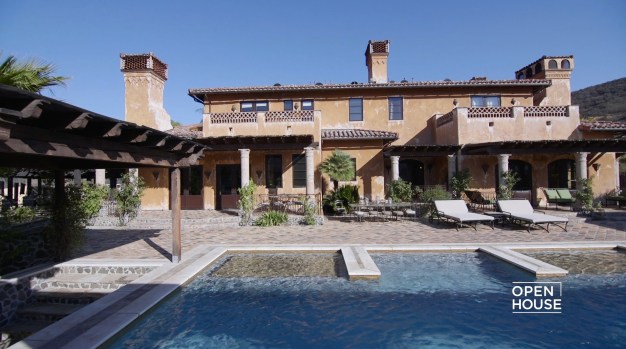 Those watching the show were left stunned when Chicago's lovable Joe Amabile was sent home without advancing to the next round of the hit dating show.
The 31-year-old who said he "never forgets a face," said his ideal first date would be to go out to restaurant with good wine and good food. But the "successful produce" man couldn't produce a rose and was sent home in a decision that had many scratching their heads.
Amabile quickly went from "average Joe" to the subject of thousands of tweets and headlines, some noting that he was sent home while a man wearing a chicken costume advanced.
Why didn't you keep Joe?! I mean his name is Joe, from Chicago, and owns a grocery store! #FreeFood4Life#Thebachelorette

— Adam Gottschalk (@AdamJGottschalk) May 29, 2018
I am shocked — SHOCKED — that joe the grocery store owner has been sent home #thebachelorette

— Lia Beck (@liakbeck) May 29, 2018
Me trying to figure out why Joe the grocery guy wasn't picked #TheBachelorettepic.twitter.com/FYQXAiIy5D

— Allison Avery (@AlleyAveryy) May 29, 2018
BECCA I LOVE YOU BUT HOW COULD YOU SEND JOE HOME NIGHT ONE #TheBachelorettepic.twitter.com/cPrIwa8drR

— Brett S. Vergara (@BrettSVergara) May 29, 2018
Justice for Joe the grocery store owner #TheBachelorette

— Emma Gray (@emmaladyrose) May 29, 2018
Joe didn't make it past the first cut???? #TheBachelorettepic.twitter.com/a9BoaJw3X5

— Cari (@notcawri) May 29, 2018
me showing up to shop at joe's grocery store in chicago #theBachelorettepic.twitter.com/z7JSHMsDVp

— kathleen (@kathleen_hanley) May 29, 2018
I'm saying it now and I will stick by it all season, I want Joe the grocery guy for the next Bachelor #TheBachelorettepic.twitter.com/aEaU7SaI1X

— Gabraham Lincoln (@ElephantHippie) May 29, 2018
Girls flocking to Joe's grocery store tomorrow.#TheBachelorettepic.twitter.com/9iBUMaI54O

— Maggie Murphy (@mmurphy519) May 29, 2018
In the end, it appears Kufrin was more into chicken than produce.