With all the movement taking place in the weeks leading up to today's trade deadline, one got the feeling that it would be a pretty tame one compared with the all-out bar brawls we've seen in years past.
And so it was.
Though Stan Bowman told everyone he wanted a defenseman and possibly a center, this isn't news because everybody wants more of those. It's a seller's market for that sort of thing, and Stan got caught in the middle of it.
What he did do was acquire Chris Campoli from the Ottawa Senators for Ryan Potulny and a 2nd round pick. The particulars on Campoli is that he's 6' 0", 200 pounds and 26 years old. The numbers are not going to wow you with this guy, he's got three goals and 14 points with a -3.
He's never come close to the offensive output he did in his rookie year with the Islanders, where he potted 9 goals and 34 points.
But the Senators had a lot of options above him in years past. The encouraging thing about Campoli is he's been the Senators' best even-strength player this season, although playing against some of the weaker competition, according to Behind The Net.
So even though he's got that -3, according to the BTN numbers the Sens were 1.2 goals to the good for every 60 minutes he was on the ice. That would, in fact, rank him second on the Hawks behind Brian Campbell.
But the whole deal has a kind of "meh" feel to it. Campoli is not the fire breathing hulking presence the Hawks told us they wanted.
Likely, those who would fit that description were coming at too high a price, and we can't argue with Bowman if he didn't want to sell out part of the team's future for a stop-gap beast.
Campoli did kill penalties in Ottawa, and was ok at it, but he's more of what the Hawks already have -- a small-ish d-man who can skate and move the puck but aren't overly physical. This isn't a move we can grade right off the bat, we'll have to give it games. But a 2nd round pick is not to be sneezed at. Luckily, the Hawks have a lot of picks in the draft.
It's not whiff from Bowman, but it's not a base hit either, or at least not an extra-base one. Why a claim wasn't put in for Mike Commodore, who would have been the same cap hit as Campoli but cost you no assets whatsoever, is a mystery to me. Commodore is everything the Hawks said they've wanted, and they just let him go on by. Yes, he signed for more years as Campoli is a free agent after this season, but this just doesn't add up.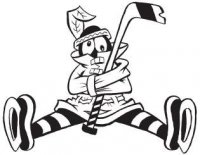 Sam Fels is the proprietor of The Committed Indian, an unofficial program for the Blackhawks. You may have seen him hocking the magazine outside the United Center at Gate 3. The program is also available for purchase online. Fels is a lifelong 'Hawks fan and he also writes for Second City Hockey .