Family and friends of a Chicago teen charged with murder defended his character Friday as a judge ordered him held without bail.
Tevin Lee, 18, was charged Thursday in connection with the shooting of 11-year-old girl Shamiya Adams. The girl was about to make S'mores with friends at a sleepover party when a bullet pierced a bedroom window and struck her in the head.
Police Supt. Gary McCarthy said the shooting was in retaliation for an argument involving an "associate" of Lee's hours earlier in the day, adding that evidence and information from witnesses strengthened investigators' confidence that Lee was the shooter.
But after charges were filed and in court Friday, those who know Lee said he was a good kid who wasn't in a gang and who was respected by peers because he graduated from high school and didn't drink or smoke. Lee's god father, Wallace Bryant, said the teen even volunteered with an anti-violence program run by a church on the city's west side.
"He was working with kids trying to keep them out of trouble," Bryant said.
Lee planned to attend Harold Washington college and wanted to be a police officer, Bryant said.
Still, the god father said Lee sometimes hung out with the wrong people and said that if it's proven that Lee was the shooter, he should pay for the crime.
As of 2 p.m. Friday, NBC Chicago was unable to confirm the anti-violence program with which Lee worked.
Prosecutors maintained in court that Lee, who attended Richard T. Crane Medical Preparatory High School, is a member of the Gangster Disciples. They said someone Lee knows was riding his bike near the 3900 block of West Gladys Avenue at about 4 p.m. when two people pushed that person off the bike and punched and kicked him when he was on the ground.
Shortly after 9:30 p.m., that person -- who prosecutors did not name and described only as a "witness" -- his brother, a cousin, and Lee, went back to the area and saw a group of boys near a home.
The witness' brother is also a member of the Gangster Disciples, prosecutors said.
Despite being told by the witness that the boys who attacked him weren't in that crowd, prosecutors said Lee pulled a handgun and fired three to four shots in the boys' direction. One of those bullets went through a window and hit Adams on the right side of her head. She was transported to Mt. Sinai Hospital where she was pronounced dead.
Prosecutors said Lee admitted to the witness that he'd gotten rid of the gun after the shooting. Police said Thursday they'd not recovered a weapon.
"I just want someone to find the truth," said Bryant. "Most people who know Tevin know he would not do that type of stuff. If he did, he should pay for the crime, but I don't see him doing that."
Adams' family, friends and supporters, including Mayor Rahm Emanuel, gathered at a Ukrainian Village restaurant on Thursday night to raise money for the family. As of Friday morning, about $6,500 had been raised to help pay for the girl's funeral, scheduled for 11 a.m. Saturday at the Living Word Christian Center, at 7600 W. Roosevelt, in Forest Park.
A donation box remained out at Fatso's Last Stand, at 2258 W Chicago Ave., on Friday afternoon.
Family Reacts to Arrest in Shamiya Adams' Slaying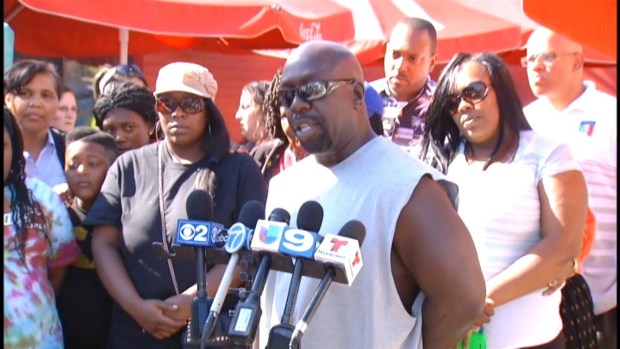 Published at 12:59 PM CDT on Jul 25, 2014 | Updated at 6:11 PM CDT on Jul 25, 2014