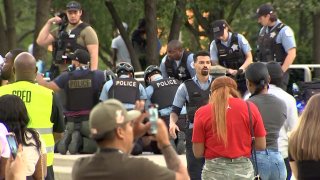 A teenager has died after being shot in the chest in Chicago's Millennium Park on Saturday evening.
According to Chicago fire officials, the 16-year-old was shot during a gathering inside of the park.
He was taken to an area hospital in critical condition, according to officials, but later died from his injuries, according to chicago police.
There are no further details on the shooting, but police say two persons-of-interest are in custody at this time. Two weapons were also recovered at the scene.
Large gatherings of teens remain ongoing in the Loop on Saturday night, with several CTA bus lines having to alter service because of the crowds.
According to the agency, the 6 Jackson Park Express and J14 Jeffery Jump buses are being rerouted through the Loop, as are buses on the 3, 4, 146 and 147 routes. Route 151 Sheridan buses are also being rerouted because of street blockages at Michigan and Washington near Millennium Park.
We will have more information on this story as it develops.