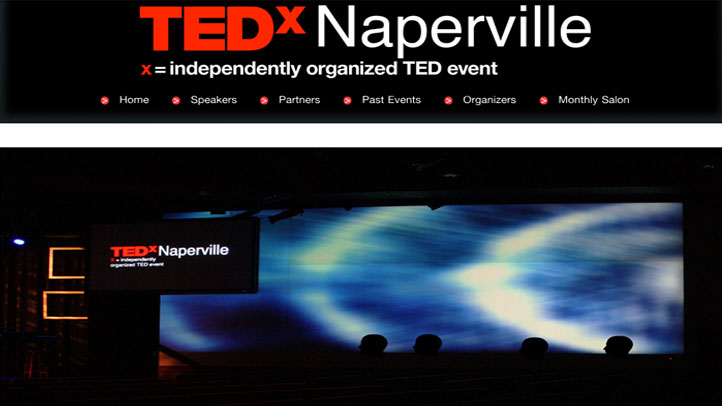 TED, or Technology, Entertainment and Design, is a series of conferences begun in 1984 with the mission to disseminate "ideas worth spreading," and they ain't kidding.

TEDxMidwest just finished up a two-day run, TEDxNaperville happens on Nov. 11, and the conferences are all brimming with fantastic ideas.
Fascinated by both their rules and unusually incredible roster of speakers, I wanted to find out more, so I chatted with Arthur Zards, organizer of TEDxNaperville.
How do you choose your speakers?
Arthur Zards: I follow two basic rules for choosing speakers. First, do they have an idea worth spreading? Second, will two audience members who are complete strangers sitting next to one another immediately start talking about it to one another at the talk's end?
That's it? Nothing more to help you find great speakers?
Arthur Zards: I also look for variety. Not all great ideas are from business leaders or scientists. Everyone has a great idea; sometimes I just need to help them find it. My favorite speakers from 2010 were a local chef and a patent attorney talking about Microsoft Notepad."
Do you throw out any twists for the audience? I know that in the past I've seen speakers so diverse, but the organizers truly had a mission in forming their lineup.
Arthur Zards: Every year I also make a goal of getting at least one speaker who has never spoken in public but has a great idea that they are passionate about. Passion makes the weakest public speaker really shine onstage.
Why did you choose to become a TEDx conference organizer?
Arthur Zards: I've never been satisfied that the only people with good ideas worth spreading are from the academia or science institutions. Learning that the TEDx concept would give me a platform for local speakers to share ideas, I challenged myself to see if I could find local people with ideas worth spreading. Turns out I was right.
--
Zards' lineup is quite diverse. One talk covers the future of space travel. Another delves into the concept of a stock-market exchange for non-profits that could change the way we choose to donate money. A third focuses on why moms make the best entrepreneurs. There are some surprises, too, that Zards would not allow to go to print. Guess you'll have to show up in person to hear them.
Tickets are $50 and can be purchased here.
Jill Salzman is currently growing her third entrepreneurial venture, The Founding Moms, the world's first and only kid-friendly collective of monthly meetups for mom entrepreneurs. Having built two successful companies, she launched The Founding Moms to connect mom entrepreneurs around the globe with one another.In her spare time, Jill enjoys kloofing, traveling to small towns, and erasing her daughters' crayon artwork from the kitchen walls.