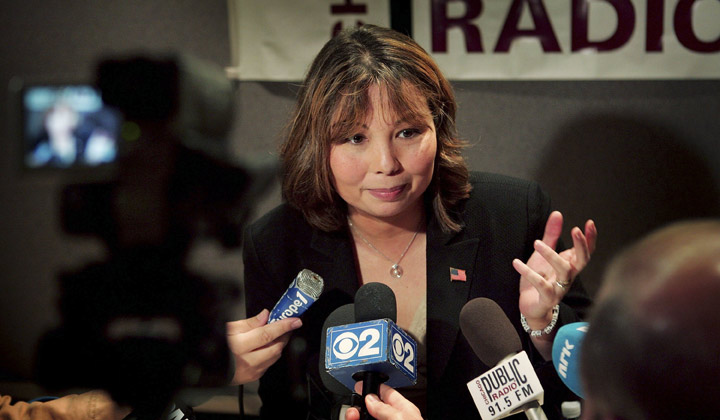 Tammy Duckworth, a Democratic candidate for Congress in the 8th District, is a wounded veteran of the war in Iraq and a lieutenant colonel in the Illinois National Guard. After losing a race for Congress to Peter Roskam in 2006, Duckworth served as director of the Illinois Department of Veterans' Affairs, then as Assistant Secretary of Veterans' Affairs in Washington, D.C. She resigned from the latter post last year to run for Congress. Duckworth will face Raja Krishnamoorthi in the March 20 primary. The winner is likely to oppose incumbent Rep. Joe Walsh in November.

Q: What do you think caused the near-government shutdown last month, and what did that say to you about how you want to do things differently if you're elected to Congress?
A: It's one of the main reasons I decided to run in the first place, because we had a near-government shutdown in the spring, and I was actually sitting in my office at midnight, as they were about ready to shutdown government, and I was having to come up with a plan to call 300,000 VA employees and tell them they were not coming in to work the next day, as their jobs were deemed non-essential, and that they were not going to get paid. At the same time, we were also going to have to inform veterans that many of the services on which they depended were not going to be available: vocational rehabilitation programs, jobs training programs, GI Bill programs, everything but the most basic emergency care in VA hospitals. That was, for me, the turning point when I decided 'I've got to run for Congress.' It's time to show some leadership. It's time to work to solve the nation's problems.

Q: Why do you think it happened twice in one year?
A: I think it's very clear. I think Speaker Boehner and the Republican Party were very clear in saying they were out to stop the president. I also think that Speaker Boehner was someone who was ready to compromise, but it was the extremist wing of his party that pushed for the shutdown, and the Joe Walshes of the Republican Party were the ones that pushed for the shutdown, because they are so out of touch with where the American people work and live and struggle that they said, 'We'll shut down the government and we'll prove a point.' That's not acceptable. You're a public servant. You need to come up with a compromise and figure out how to keep the government running. When I get to Washington, I'm not going to be your typical freshman Congressman asking where the bathroom is. I've worked in Washington to solve a lot of the problems that have to do with unemployment of veterans, putting veterans back to work. I will be able to reach out to members on both sides of the aisle and say, 'We worked on these issues. We were able to come up with employment programs for veterans. Now let's talk about tax incentives for those who've been unemployed for more than six months.'

Q: How much work did you with Congress as the assistant secretary?
A: I worked with a range of issues, President Obama and [Veterans Affairs] Secretary [Eric] Shinseki asked me to be the leader for the initiative to end homelessness among veterans in five years, and we were able to cut that down significantly in two-and-a-half years. One of the major issues where we needed both Senate and House support was called a HUD VASH. It's HUD -- Housing and Urban Development -- VA Supportive Housing voucher program that actually provided housing vouchers to organizations that were housing and rehabilitating veterans. Those are the kinds of things that can be available not just to veterans, but to everybody that's homeless.

Q: What's your plan to bring more jobs to northern Illinois?
A: We in Illinois were the first state in the country to have a tax credit for employers who hired veterans of Iraq, Afghanistan and Persian Gulf, and over 100 companies took advantage of that, and that was a program that I worked to help put into place here in Illinois, and the president has adopted that for his national jobs program. Let's take that type of program and have a tax credit for businesses who hire those that have been unemployed more than six months. We need to extend the payroll tax cuts. That goes from 2 percent to 4 percent to as high as 6. If we don't continue that, that'll be a significant amount of money out of people's pockets.

Q: You're running to represent a commuter district, where a lot of people are upset about the increase in tolls. What more transportation options can you bring to the district as a congressman?
A: We need to improve the existing infrastructure. We need to expand our roads and bridges and the rail network. We need to take a look at O'Hare, and the critical hub there, and look at the western access to O'Hare. I would be very supportive of light rail. I commuted for a long time to Evanston and took the Metra all the way to Ogilvie, where I switched trains and took another train up.

Q: Would you be in favor of a circle line?
A: I certainly would be favorable towards it. I'd have to look at the cost.

Q: You started running before Joe Walsh entered on the Republican side. How has his entrance into this race changed your campaign? You're running an unflattering video of him on your web site.
A: Our country is at a point now where we have to make a decision: do we work together to solve our country's problems and regain our competitive edge globally, or do we continue to bicker and fight with each other and get nothing done? Joe Walsh personifies the movement to do nothing in Washington. I was listening to public radio, and there was Joe Walsh saying now's not the time to compromise, now's not the time to cooperate, his job is to stop everything. I thought, 'That is not what the people in this district need.' They don't need somebody who's going to oppose everything for the sake of an extremist political agenda.

Q: You ran six years ago and lost. What makes you think you have more of a chance of success this time?
A: I've now had six years of leadership in government. When I was at the state of Illinois, we did so many things that were very innovative. We instituted the first crisis hotline in the country for veterans with mental health issues. The national VA is doing that now. There's also a crisis chat room now, because a lot of our guys are overseas, and they can't call but they can get to a computer. I ran four nursing homes in the state of Illinois when I was there, and understand making sure our seniors are covered and the cost of prescription drugs. I was able to cut down the amount of money the state spent on prescription drugs by moving our formulary under the federal VA, because the federal VA can negotiate lower drug prices.

Q: What do you say to the Republicans' contention that this district was drawn specifically to elect you to Congress?
A: I think this district was drawn to make it more representative of the people living here, and I think that I'm very well suited for this district. I've lived here for 10 years. I think Joe Walsh, he made his decision where he was going to run, he decided to run here, he was offered $3.5 million, I hear, by the Republican Party. The voters have to decide who is better suited for this district, and I think it's going to be me.
Buy this book! Ward Room blogger Edward McClelland's book, Young Mr. Obama: Chicago and the Making of a Black President , is available Amazon. Young Mr. Obama includes reporting on President Obama's earliest days in the Windy City, covering how a presumptuous young man transformed himself into presidential material. Buy it now!