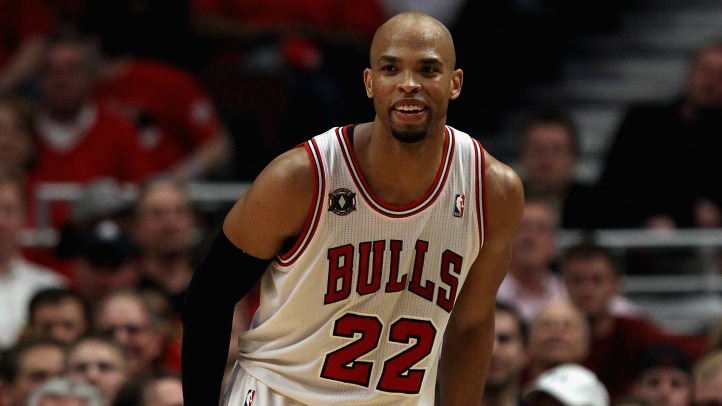 It took until the final hour, but the Bulls and Taj Gibson finally settled on a contract extension to keep him in Chicago for the next four years.
Gibson's agent Mark Bartlestein, John Paxson and general manager Gar Forman negotiated throughout the team's season opener against the Sacramento Kings on Wednesday night and by the time the game was over, the $38 million deal was done and Gibson was relieved.
"It's a load off my back and I can get back to focusing on basketball," remarked Taj who was pulled into the meeting soon after the game ended.
"Pax and Gar were stressing that they really wanted me to be here for a long time and I told them I didn't want to be a selfish player, I just wanted to get what's fair. And I looked at the numbers and I can't really turn down that much money, especially for the security."
Early on Wednesday, both sides seemed to be dug into their respective positions and Gibson remarked that he wasn't budging on his number, believed to be $10 million per year. But $9.5 million per year seemed fair despite the fact he presumably could've gotten more in free agency next summer.
"In the back of your mind, you do want to see what [other offers] are out there, but you don't want to be in some hellhole somewhere just chasing the bucks.
"[When the offer came] I asked my agent, 'What do you think?' don't give me the bull crap, just be real with me. He said, 'I don't want you to turn this down. I know we can probably get more this summer, but it's all about if you're happy or not. I want you to take this.'"
Ultimately, Gibson says it was less about the money and more with his comfort level in Chicago, his comfort level with the organization and his desire to play for a winner.
"It was more about winning with me and having a chance to compete on a night-to-night basis on a solid team. This is a great organization and I don't have to worry about the terrible things behind the scenes. I'm glad we were able to get the deal done."
It's rare that players show loyalty to a team when the common perception is the team isn't loyal to them. And when it comes to contract negotiations, the popular attitude in the NBA is to get as much money as you can, while you can. But Gibson had always maintained that Chicago was where he wanted to be and his desire to be here is what ultimately won him over.