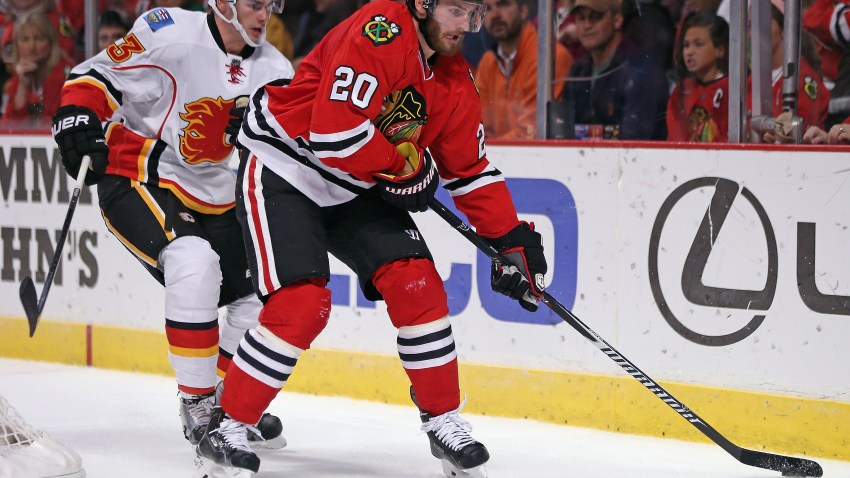 When Patrick Sharp went down with a lower body injury earlier this season, Brandon Saad was promoted back up to the Chicago Blackhawks' top line with Jonathan Toews and Marian Hossa. At times he struggled, but he still put up some respectable numbers, with six goals and nine assists in his first 22 games on the top line.
That pace was solid, but the pace he's been on in his last 10 games has been even better. Starting with a 5-2 victory over the Colorado Avalanche on December 27, Saad has eight goals and an assist, and he's racked up 26 shots on goal in those games.
Sunday's game against the Dallas Stars displayed the variety of ways in which Saad is making things happen for the Chicago offense. His second goal of the game came with about seven minutes to go in the second period, and showed off his excellent puck control skills. After getting a stretch pass from Niklas Hjalmarsson, Toews fed a pass to the middle of the ice for Saad, and he did the rest. With the puck bouncing on him, the winger spun around with his back facing the net, fended off a poke-check attempt from Tyler Seguin, and then rifled a wrist shot past Kari Lehtonen to make it a 4-3 game.
Of course, it also helps to be lucky as well as good. Late in the first period and with the Blackhawks on the power play, Sharp ripped a shot from the point that hit Bryan Bickell in front of the Dallas net. The puck bounced off to the side of the cage, and Saad was there to collect the rebound and deposit an easy top-shelf goal past Lehtonen to get Chicago back to within a goal at 3-2.
Whether by luck or by skill, Saad is making things happen on Chicago's offense. His speed opens up lanes for Toews and Hossa to skate and pass through. His puck-handling gives the Blackhawks longer possessions in the offensive zone. His defensive prowess has continued to help the Blackhawks have the top overall penalty killing unit in the NHL. His confidence is visibly growing by leaps and bounds with each passing game.
The big key for Saad now will be to sustain this kind of impact. The goal scoring won't always be there, but the little things that he does on a night in, night out basis should be. If he can continue to provide this type of impact on the top line, then it should serve as a boost to the rest of the team as they try to get out of the doldrums they've found themselves mired in since the start of the new year.