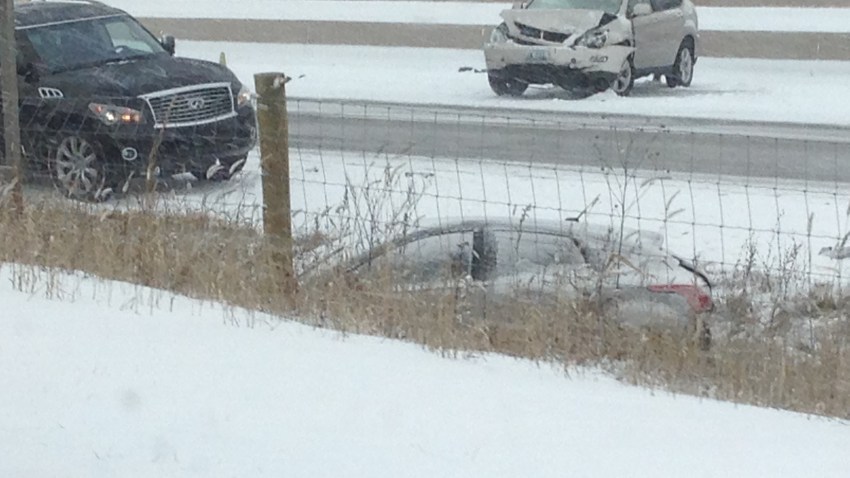 Sunday's snow meant slick and icy road conditions for Monday morning commuters, particularly on the area's side streets.

Hundreds of snow plows from the Chicago Department of Transportation and the Illinois Tollway were out Sunday and into the overnight hours into Monday clearing the 1 to 3 inches of snow that fell on the metro area.

The official snowfall total recorded at O'Hare International Airport on Sunday was 3.1 inches.

Officials with the Illinois Tollway said the agency was prepared to mobilize its full fleet of 182 snowplows in response to the first winter storm of the season.
"We ask our customers to be patient during this season's first snow event and give our snowplows the room needed to clear the roads," said Illinois Tollway Executive Director Kristi Lafleur.
The Chicago Department of Streets and Sanitation also deployed 200 plows and salt spreaders Sunday as the winter weather moved into the city.

That plow work meant the expressways through the city were mostly just wet for the Monday commute, though drivers should remain on the lookout for slick spots, particularly on ramps, bridges and overpasses.
It was a far different story in southeastern Wisconsin Sunday as the storm created treacherous driving conditions. Several people were injured and at least one person was killed in multiple accidents along Interstates 94 and 894, as well as I-39, I-90 and I-43 at Highway 100.
The Illinois Tollway offered the following tips for drivers in winter weather:
Clear snow and ice from all windows, mirrors and lights on your vehicle before you drive.
Stay alert to avoid distracted driving
Reduce speed in cash lanes at toll plazas
Adjust speed to road conditions and traffic around you
Avoid unnecessary lane changes
Keep away from snowplows
Do not use the shoulder of the road to pass a snowplow
Call *999 for roadway assistance
Stay in your vehicle, help is on the way
The Department of Streets and Sanitation also urged drivers to be patient when driving during inclement weather and be cautious.
In addition to tough commuting conditions, the Chicago Office Emergency Management and Communications cautioned residents to be mindful when heading out into the cold weather as temperatures were expected to hit single digits and drop below zero degrees.
Those seeking a warm place to go on weekends, holidays, or after hours should call 311 to be directed to available city facilities.
For more winter preparedness tips visit www.alertchicago.com.