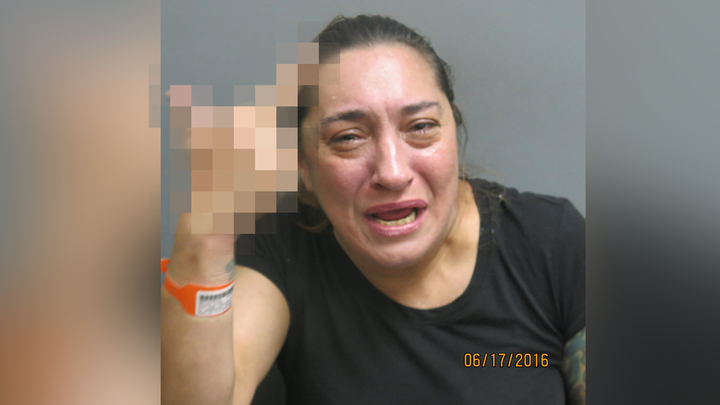 A suburban woman swore, vomited, spit, name dropped, and displayed vulgar hand gestures during a drunk driving arrest early Friday morning, according to police.
A Riverside police officer saw a 2003 Land Rover stopped at a light in the 3600 block of S Harlem Ave at 3:27 a.m. Friday, according to a release from the Riverside Police Department.
The car failed to go through the light when it turned green, police said, and when the police car pulled up behind the vehicle, it began moving at 20 mph in a 35 mph zone, "straddling" from lane to lane.
The officer stopped the car, at which point he smelled a strong odor of alcohol from inside the car and on the driver's breath. The officer asked the driver, 44-year-old Hazel Rojas of the 330 block of S 60th Ct in Cicero, to perform field sobriety tests, which she failed. When asked if she had been drinking, Rojas said she was not, but that she worked at a facility where alcohol was served, and it had spilled on her clothing, which is why she smelled like alcohol.
Police said Rojas was swaying so badly that at one point, she almost fell into the arms of the arresting officer. Once she was in custody, according to police, she refused to take a breathalyzer test.
After she was told she was under arrest for drunk driving, she began "to verbally abuse the officers by hurling insults about the officers, the profession of law enforcement and the officers' families," according to the release. Rojas also asked not to be arrested, as she was friends with many officers in the western suburbs, and she began dropping names, police said.
She also complained of a shoulder injury from a prior incident, officials said, and was taken to McNeal Hospital for medical treatment. She was examined and found to have no injuries, then returned to police custody for booking.
At this point, police said Rojas "made the booking process very difficult," refusing to have her picture taken and ultimately displaying vulgar hand gestures, like the one seen in her mugshot. She also spit and vomited in front of the arresting officer, police said.
She was charged with driving under the influence of alcohol, driving under the posted minimum speed limit, illegal lane usage and driving under the influence of drugs (Diazepam), according to police. Her vehicle was impounded as part of the arrest, police said.
Rojas' arrest "demonstrates the difficulty in making DUI arrests nowadays," said Riverside Police Chief Tom Weitzel. "More and more people are fighting with the police when arrested and booked," he added.