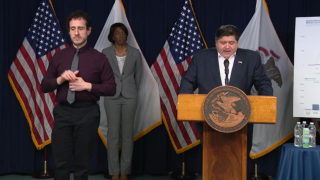 For the second weekend in a row, demonstrations are planned for numerous Chicago suburbs after the death of George Floyd in Minneapolis.
Throughout the last week, cities and villages have implemented curfews and other safety protocols to help control crowds and prevent damage to businesses, and many are considering doing so again this weekend.
Here are the latest headlines from around the suburbs:
3 p.m.: Police in Suburban Aurora Lift Curfew, Travel Restrictions
Officials in suburban Aurora have canceled a 10 p.m. curfew for the second day in a row, saying that no additional curfews are scheduled at this time.
According to a press release from city officials, the decision was made after reviewing conditions in the city and in surrounding communities.
In addition, travel restrictions through downtown Aurora have also been lifted, although some modifications will remain in effect at Fox Valley Mall through the overnight hours.
2:30 p.m.: Friday Protests Largely Peaceful in Naperville, Authorities Say
Naperville police say that two people were arrested after a group of demonstrators refused to disperse during a protest on Friday night.
According to authorities, two separate groups conducted protests in the city on Friday night. The first group, which marched along 95th Street, saw 30-to-40 individuals gathered, and was peaceful, according to police.
The other, much larger, protest was located in the downtown area near Centennial Beach. Approximately 200 protesters marched along Jackson Street toward the intersection of Chicago Avenue and Washington Street, according to police.
Some individuals in that group began to try to move through police lines, but were ordered to disperse and largely complied with that order, according to authorities.
2:15 p.m.: Pritzker Calls for Police Accountability, Investment in African-American Communities
Illinois Gov. J.B. Pritzker spoke at a rally in suburban Calumet City on Saturday, calling for increased efforts at police reform and increased investment in African-American communities.
Speaking at the South Suburban Day of Action in Calumet City, Pritzker vowed to undo the damage of years of disinvestment in primarily African-American communities.
"We have to repair the damage to black communities," he said. "That's damage that comes from years of disinvestment. It can't just be a one-time thing. It has to be sustained every year. People talking about a budget is boring, but a budget is a moral document. It expresses what we believe. Where we spend that money is about our values."
12 p.m.: Aurora Activates Command Center Amid Potential Protests
With potential marches and protests planned for this weekend, authorities in suburban Aurora have activated the Aurora Area Regional Command Center, which services multiple jurisdictions throughout the south and west suburbs.
The command center will help authorities monitor and respond to potential incidents in Kane and Kendall counties, along with communities like Naperville, Elgin and Aurora, where looting and clashes between police and demonstrators were issues in the last week.
Law enforcement, fire officials and emergency management employees all contribute to the command center, according to a press release.
The center will remain open for as long as needed, but was closed at 9 p.m. Friday due to "low activity" from protests areawide, according to the release.
9:50 a.m.: 11 Face Felony Charges in Connection to Aurora Demonstrations
Aurora police say at least 11 people are facing felony charges in connection to demonstrations in the city earlier this week.
Eleven people are facing felony charges in connection with demonstrations that occurred between May 31 and June 1, in west suburban Aurora, according the Kane County State's Attorney's Office.
The eleven arrestees range in age from 19 to 36, the state's attorney's office said. One person was charged with arson and criminal damage to government property for allegedly setting fire to an Elgin police vehicle and six others were hit with burglary and retail theft charges.
9 a.m.: Pritzker to Attend South Suburban Day of Action
Illinois Gov. J.B. Pritzker plans to attend a rally in the south suburbs on Saturday, as demonstrations are expected around the area for the second weekend in a row.
The governor will attend the South Suburban Day of Action, to be held in suburban Calumet City on Saturday morning.
The event is one of dozens around the suburbs, with towns from Bourbonnais to Lemont expected to hold demonstrations in the wake of George Floyd's death in Minneapolis.