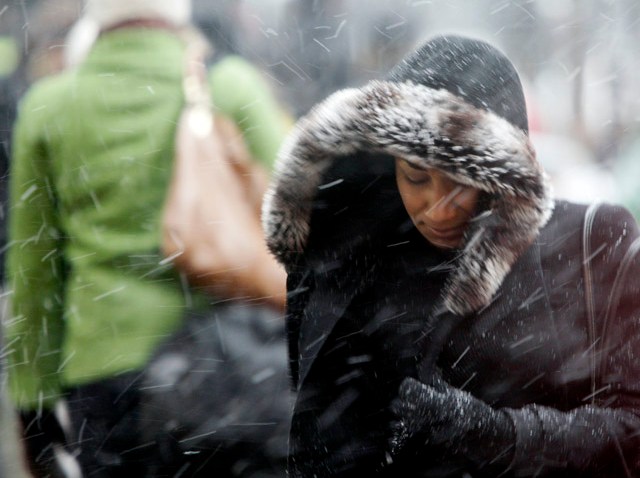 Not snowmageddon. Windpocalypse.

As the threat of Chicago's first winter snow recedes, commuters will be affected by precipitous drops in temperature that will freeze roadways, bridges and ramps, the National Weather Service reports.

Temperatures will drop down to three and seven degrees tonight, turning wet pavement into sheets of ice, while strong winds could bring the wind chill down to 20-below zero overnight.

Thursday is expected to be blustery and very cold, with highs between 12 and 16 and wind chills as much as 20-below.

Meanwhile at O'Hare, de-icing of planes and weather on the East Coast have caused more than 100 cancellations and delays of more than 30 minutes on average for all flights, the city Department of Aviation said.

At Midway Airport, there have been no significant delays, but more than 25 flights have been canceled.

The freezing temperatures led the city to urge residents to take precautions and check on vulnerable residents.

"Chicagoans are urged to check in on family members, friends and neighbors, especially the elderly and those in poor health," said Deputy Commissioner, Arlene Ortiz.

Residents in need of shelter from the cold weather can visit any of the city's six warming centers, including the 24-hour facility located at 10 South Kedzie Ave. Ortiz also warned against making unnecessary trips outdoors.

As of 1:30 p.m., more than 300 ComEd crews were working to restore electrical service to 7,000 customers.

While Chicago may have dodged a bullet, people in the northwest suburbs were out shoveling late last night and again early this morning. "I have shoveled this walk three times since last night" says one McHenry County Shop Owner. When asked, what he'll be doing in a few hours when the temperature drops, his answer "I'll be salting."

Chicago Police and Illinois State Police reported only "minor" traffic accidents Wednesday.