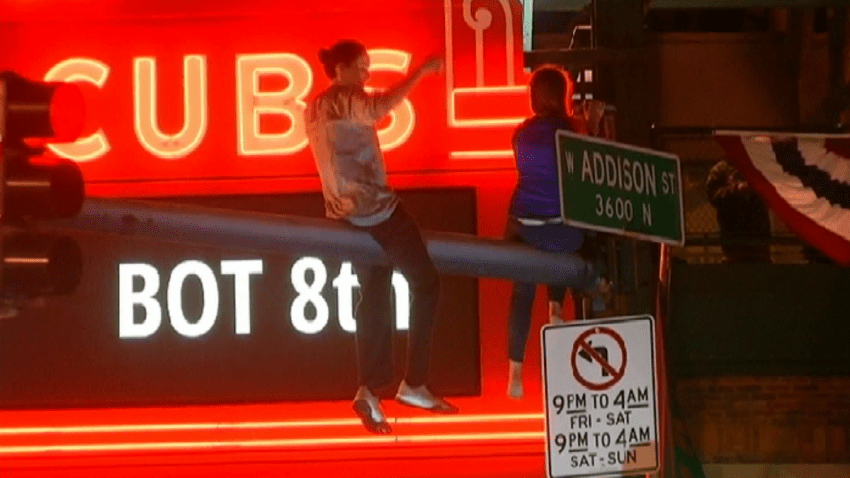 A large police presence was visible outside Wrigley Field following the Chicago Cubs' win of the World Series as barricades were erected in the jampacked North Side neighborhood.
Police began closing streets around Wrigley Field, Red Line trains were not stopping at the Addison platform and buses were being rerouted, officials confirmed Wednesday night.
"We will work to encourage safe celebration but will remain intolerant to destructive or criminal activity [in Wrigleyville]," Antohony Guglielmi, a department spokesman said in an email.
Chicago Police said no vehicular or pedestrian traffic was being allowed southbound on Clark Street from Grace Street.
"All street closures around [Wrigley] Field are now in effect. #GoCubsGo," Guglielmi tweeted about 9:15 p.m.
Moments later, state troopers were arriving at Clark Street in Wrigleyville.
The Chicago Transit Authority said on its Twitter page that Addison buses were being temporarily rerouted via Addison, Southport, Belmont and Halstead.
Busses on the 22 Clark route are temporarily being rerouted via Clark, Southport and Belmont, the transit authority tweeted.
The Chicago Police Department's twitter account also posted similarly informative and enthusiastic tweets.
"Wrigleyville: Southbound traffic on Clark from Grace is now closed," the department tweeted about 9:10 p.m., shortly after David Ross' historic home run in his final professional game.
"Wrigleyville: Westbound Addison and all eastbound traffic from Racine to Wilton is closed. #FlyTheW," the department tweeted.
According to the Office of Emergency Management, no parking is allowed on the following streets, beginning Tuesday at noon through Friday at 4:00 a.m.:
• Clark from Aldine to Irving Park
• Sheffield from Grace to Roscoe
• Addison from Halsted to Southport
• Racine from Clark to Roscoe
• Irving Park from Clark to Seminary
• Eddy from Clark to Racine
• Cornelia from Clark to Racine
• Newport from Clark to Racine
• Patterson from Clark to Racine
• Clifton from Waveland to Grace
• Seminary from Waveland to Grace
• Kenmore from Waveland to Grace
• Seminary from Newport to Eddy
• Cornelia from Wilton to Sheffield
• Grace from Wilton to Clark
• Waveland from Wilton to Racine