It's still unclear what caused a house explosion that killed one resident and damaged three homes Monday in Streator, located southwest of Chicago.
Tim Davison said his mother, 82-year-old Ethel Davison, was killed when the house on the 300 block of Court Street exploded at about 11:30 p.m.
He says he did what he could to save her.
"All I can remember is smelling the smoke and seeing the flames," Davison said. "I went into the fire to try and locate my mom. The roof had collapsed on where she sleeps."
Two other homes nearby were damaged by fire resulting from the blast, including Rodney Robinson's house who lives next door.
"It's just horrible, we have nothing left. Everything was paid for, everything that we worked for is all gone," Robinson said.
Sky 5 Above Streator Home Explosion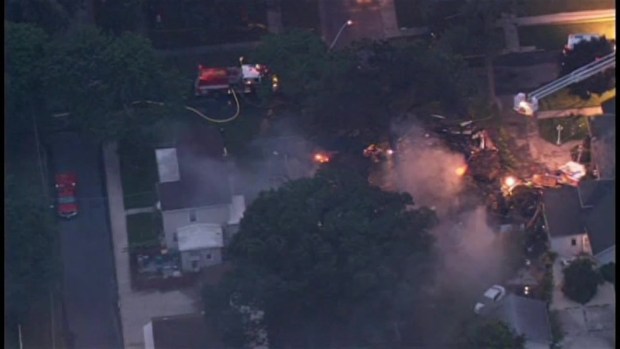 Kathy Lankhier lives near the scene and said she could feel the explosion throughout her house.
"[My] couch shook and it shook really bad," she said. "I went to the front door and there were huge flames ... The house was black and you could not see the house. [The fire] then went automatically to the next house."
The victim's granddaughter, Brenda Dibrizzi, couldn't contain her emotions when she was told her grandmother was gone.
"She was wonderful, she so caring and loving. She was such a good Christian, she wasn't ready to die," Dibrizzi said.
Officials from the Illinois State Fire Marshal's Office and a gas company were investigating the explosion, but do not believe foul play was involved.
Nicor was on scene and turned off the gas to three homes, but officials would not confirm it was a gas leak that caused the explosion.
Three firefighters injured in the fire were treated and released from a local hospital.
Top News: Political Turmoil in the Streets of Kenya
Published at 8:28 PM CDT on Sep 2, 2014