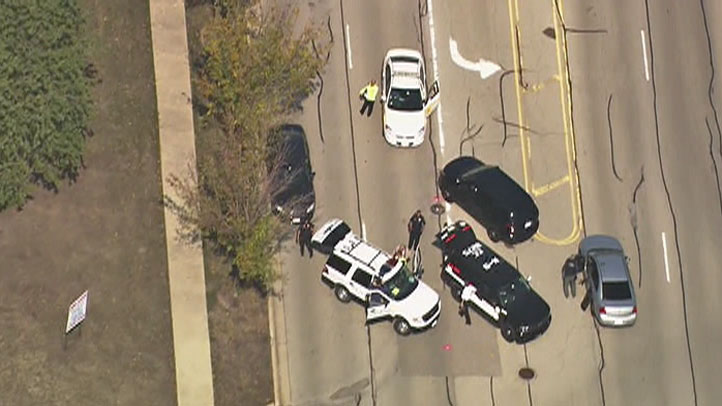 A 20-year-old Streamwood man suspected of an armed home invasion Friday afternoon in Streamwood that put two schools and a library on lockdown has turned himself in to police.
He turned himself in to authorities Friday night at the Cook County courthouse in Maywood, a release Saturday from Streamwood police said.

Charges are pending but have not been filed against the suspect, the release said. Authorities provided the name and photo of that man, but NBC Chicago opted not to release that information because he hasn't been charged with a crime.

Streamwood police officers were called to the 3000 block of Lynnwood Court shortly before noon on Friday for a report of a home invasion and kidnapping. A 30-year-old man was taken by gunpoint and ordered to drive to an unknown destination, Cmdr. Randy Hart said in a statement.

While driving, the victim attempted to escape and crashed the vehicle into a sign. The gunman then ran off into a densely wooded area near Lake Street and Park Boulevard, said Hart.

A shotgun was found about an 1/8th mile from the crash site Friday afternoon, police said. The discovery ended the most intense efforts of a manhunt in west suburban Streamwood.

"The victim was targeted. This was not a random act of violence," said Chief James Keegan.

Authorities said the gunman was a black man wearing blue jeans with a crucifix on the back pocket and a red sweatshirt with a white stripe. When he was last seen, however, he was without a shirt, police said.

Residents earlier in the day had received reverse 911 calls advising them to stay in their homes as authorities searched for a man with a shotgun.

Schools in the area, as well as the Poplar Creek Public Library, were secured or had end-of-day transit affected by the search. All students were home safely by 5 p.m., the school district, U-46, said on its website.

"We're absolutely sorry for the inconvenience we've caused our residents and our schoolchildren, but the more prudent thing to do today was to keep our community and our children safe," said Keegan.

Friday night's homecoming game at Streamwood High School went on as scheduled.