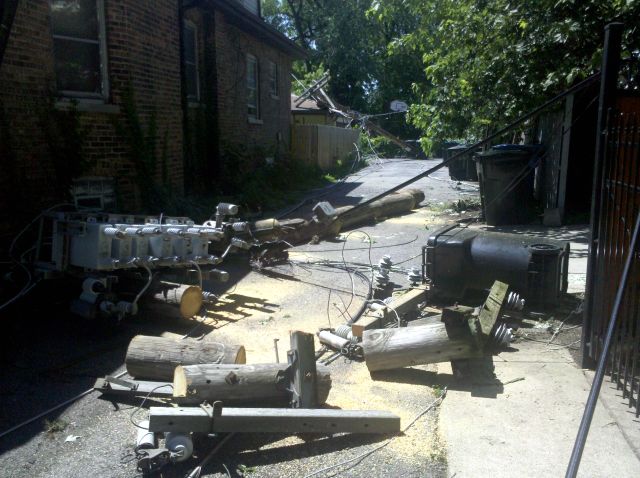 For the second week in a row a round of powerful storms wreaked havoc on Illinois' infrastructure.
Almost 56,000 ComEd customers remained without power about 24 hours after strong winds and pounding rain blew through the Chicagoland area.
ComEd spokeswoman Krissy Posey says ComEd has about 450 repair crews working 16-hour shifts as they try to restore service. About 230,000 customers were in the dark at the height of the outages Wednesday evening.
Though the incident is not yet confirmed, a tornado was reported to have touched down in Downers Grove. The National Weather Service is investigating this possibility, according to meteorologist Ben Deubelbeiss.
Elswhere, the Stevenson Expressway was reopened after severe flooding made it impassable near Pulaski Road Wednesday evening. Interstate 55 reopened around 4:30 a.m. after IDOT crews used portable generators and pumps to drain the roadway. Before that motorists were looking for ways around.
Trains are also affected. The Metra Electric District station in Matteson suffered extreme damage and will remain closed until further notice.
Chicago's Department of Streets and Sanitation said 450 new "tree emergencies" were recorded Wednesday, bringing the total number of incidents to 5,812 since last Friday.

73-mile-per-hour winds were clocked near Midway Airport, and some funnel clouds were sighted in the area. Winds were so heavy that a semi-trailer in Oswego was knocked over.
Copyright AP - Associated Press