I'm exhausted. I'm sure you are too.
Hey, I get it. Being a hockey fan isn't always supposed to be fun. It's not always the spring of 2010. It's times like these that makes those springs so special. But this year? Even just these past two weeks? My tanks are empty. You're probably not far behind.
You know what's been hardest about this series (as much as we may talk about it in years to come depending how tonight goes), is that the past week we didn't know what to think. After Ben Smith's OT winner on Sunday, my colleague at Second City Hockey Matt McClure texted me, "This is the silliest (expletive) ever."
And he's right. It's just been silly. A Game 4 win just felt like one final night to enjoy, and an avoidance of watching the sword come down in front of us. But then there was Game 5, and the emphatic style of it. And it began to feel like more. This wasn't just a leading team getting lazy. This was an underdog forcing them to look lazy. Belief began to spring up from the soil I long ago dismissed.
And then there was Game 6. I don't ever want to go through that again.
But with the Canucks superb effort, it was medievil torture. As they gained more and more control in the 3rd and OT, I found myself asking for it to be over.
No, I can't think of a worse fate than watching the Canucks celebrate our ouster on the United Center ice. No, I didn't want to stop watching and writing about hockey just yet, especially not after rediscovering the belief. But this, I couldn't take it any more. It's like having the man in the black hood dance in front of you and wave that axe in your face, as you're pinned on the tree stump, fake like it's coming down, and then start all over again. Just plunge the thing man! I've accepted my fate.
And now, for the first time in 16 years, we get a Game 7. Every chance will mean either we get to keep our red on or have to watch the sorry lineups of the Cubs and Sox. Fun will not be one of the top adjectives to describe the proceedings.
I've thought so many different things with this team, I've run out. I've written their eulogy twice now. I've been optimistic. I've derided them. I've championed them. And they've been all those things this series. At least it ends one way or the other tonight. And if nothing else, the Hawks have already provided one great thrill this year.
But that won't be enough, will it? A Game 7 loss won't be cheered because we got that far. We're here now, right? Not against these guys. You can't lose this game to this team. Not with all they've proven to be.
The Hawks have put us through everything this year, and it's not even May yet. And as infuriating as its been, I don't want it to stop. I know, I should. But I'll take being wrong about this team if it keeps going.
And hey, you could be a Canucks fan tonight. That'd be way worse.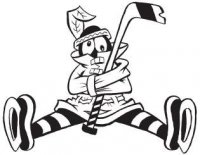 Sam Fels is the proprietor of The Committed Indian, an unofficial program for the Blackhawks. You may have seen him hocking the magazine outside the United Center at Gate 3. The program is also available for purchase online. Fels is a lifelong 'Hawks fan and he also writes for Second City Hockey .