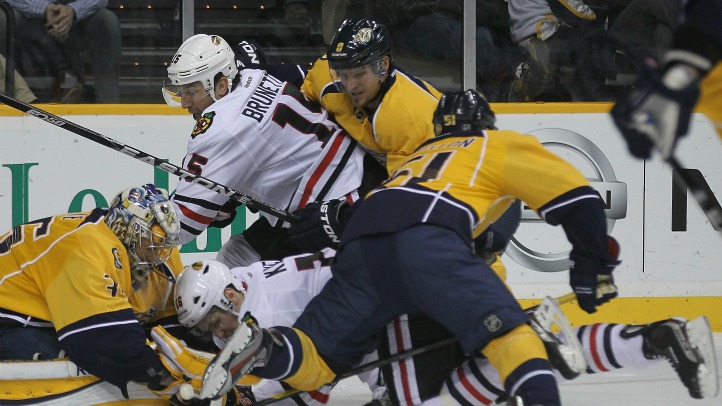 This one probably hurt the most.
When the Hawks finally got back to everything they had to do -- work harder than the opponent, use their speed to get every loose puck first, smother a team defensively, break as a unit, get a goal from one of their stars, fight back to have the game right there for them -- it still goes bottoms up. And it's the same bugaboo that's been killing them all season. Goaltending.
Quite simply, tipped or not, Ray Emery has to have that 50-footer from Ryan Ellis at the end of the 3rd. Yes, Duncan Keith probably doesn't need to stick out his stick on a shot Emery was probably going to see clean anyway. But you do those sorts of things when your goalie has been letting you down all season. Yes, Dylan Olsen can't turn that puck over. But rookies with less than 10 games at this level do that. Yes, Keith had Bickell open on the other wing, but sometimes those decisions get made. Whatever can go wrong is going wrong, especially when it's around the Hawks net.
It's harsh, but the other facet of the Hawks game that keeps shoving their skull under water, the power play, didn't help either. It only had a couple chances, but a big one in the 2nd was wasted after determined work from Patrick Kane earned it. It was full of no-movement or no imagination. You need those to beat a goalie like Pekka Rinne.
You'll know everything you need to about this team wherever it goes from here. They played a near-perfect road game. Repeat it, and they'll pull out of this eventually. But are they sitting in that room thinking nothing is going to work, and abandon the plan and hope? Or do they know deep down they're almost where they need to be to turn it around, and stick with it? Can they convince themselves of that?
Because there was much to be encouraged by. Nick Leddy had a nice game playing with Brent Seabrook. He needs more of them, but it's been so long. They got good shifts from all lines, and against a different goalie they might have potted more. Their defensive game was on top for almost the entire contest.
At times like this, it's hard to remember things like that and build on them. There's a huge urge to abandon all of it and do it on your own. The Hawks can't afford that, because it's only the league's best team waiting on Thursday in New York.
Getting back to the game you need to doesn't always bare immediate fruit. The trick is to believe it will soon. Time shall tell.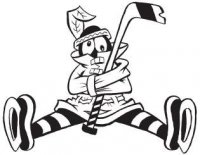 Sam Fels is the proprietor of The Committed Indian, an unofficial program for the Blackhawks. You may have seen him hocking the magazine outside the United Center at Gate 3. The program is also available for purchase online. Fels is a lifelong 'Hawks fan and he also writes for Second City Hockey .