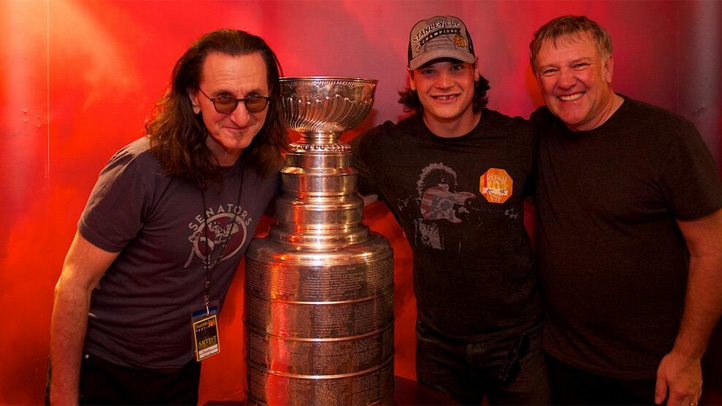 Plenty of Blackhawks fans needed to rest up after Friday's victory parade, but there's no such thing as rest when it comes to the most popular trophy in sports.

Immediately after the parade, the Stanley Cup began a series of quick appearances throughout the city, first showing up at a private team function at the Hyatt Hotel.
For the most part, the players have been the ones toting the Cup all over town, but Friday was Coach Q's turn, taking it to one of his favorite spots in Hinsdale, York Tavern.

Then it was back to Chicago, where the Cup make a series of quick trips to a variety of bars and restaurants, including another Coach Q fave, Crossroads Bar & Grill on Madison.
The Cup then made a series of quick hits, appearing at Two Chicago, and Three Aces in Little Italy.
After its quick Chicago run, the Cup headed back to the suburbs for the Rush concert, where forward Daniel Carcillo arranged for it to appear onstage at Tinley Park's First Midwest Bank Amphitheatre.
On Saturday afternoon, the Cup spent some time at the homes of several players, including Brent Seabrook, Duncan Keith and Sheldon Brookbank.

Later that evening, Patrick Kane took Lord Stanley to the Jimmy Buffet concert, as he said he would earlier in the week on the "Late Show with David Letterman."
A few hours later, it was time for more late-night shenanigans, as the Cup was spotted with several players at Studio Paris nightclub.

Sunday morning, the Cup jumped on a plane for New Jersey, where it was displayed prominently at the NHL draft, and was expected back in Chicago Monday morning.

Indeed, there's no rest for the champions.

Use the #FollowTheCup hash tag on Twitter to find out the Stanley Cup's latest location or to report your own findings, and check out our celebration coverage here.

[View the story "Follow the Stanley Cup in Chicago" on Storify]