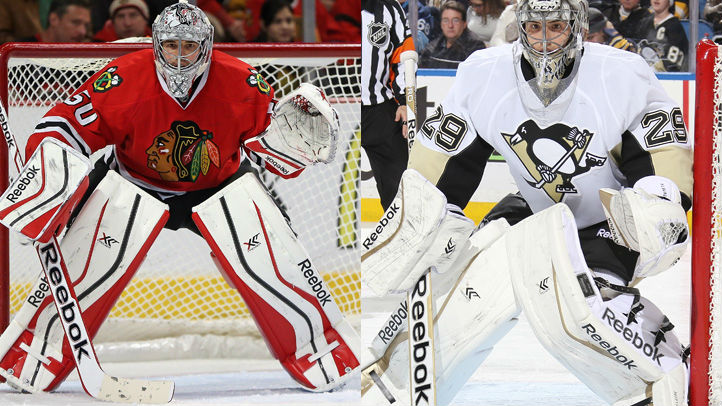 All this week, Madhouse Enforcer is taking a look at the key matchups to watch for when the Chicago Blackhawks and Pittsburgh Penguins tangle at Soldier Field as the final stop in the NHL's Stadium Series on Saturday.
Today's matchup is Corey Crawford vs. Marc Andre-Fleury.
Crawford and Fleury have a lot in common when it comes to their pedigree as NHL goaltenders. Both have won Stanley Cup championships. Both were considered outside contenders for a spot on Team Canada for the 2014 Sochi Olympics. Both are unfairly criticized in their own cities (and elsewhere) for not being that good in the crease.
Have a look at Marc-Andre Fleury's new metallic goalie equipment. pic.twitter.com/CDcT1lQqGp — Allan Walsh (@walsha) February 26, 2014
With their play this season, both goaltenders should be doing a nice job of silencing the critics. Fleury holds a 31-13-2 record with the Penguins this season, with four shutouts and a save percentage of .919 percent. Meanwhile, Crawford sports a 22-9-10 mark on the season, with one shutout and a .916 save percentage. Both goaltenders are close in terms of their goals against average as well, with Crawford's 2.35 slightly trailing Fleury's 2.23.
With just numbers to use for evaluation purposes, it's tempting to just call this matchup in favor of Fleury, but there's more to it than just pure numbers. From a technical standpoint, Crawford was really coming into his own as the Olympic break approached, moving well laterally in the crease and showing a great knack for tracking the puck and staying centered on shooters.
ICYMI: Marc-Andre Fleury's Stadium Series mask is awesome http://t.co/QmZr1ohVmG pic.twitter.com/b0tRFvUOT6 — Heather Schmelzlen (@anchorlines) February 26, 2014
As a general rule, Fleury can do these same things (albeit with a bit more drama to it, a la Tim Thomas), but for the most part, Crawford is one of the most technically sound goaltenders in the league, and after a rough start to the season and an injury in December, he looks like he's rounding into form.
Even with that being said, at this point in this season, the smart money between the two goaltenders would have to go to Fleury. He plays behind a defense that is solid with guys like Paul Martin and Kris Letang, but compared to the blue liners that Crawford enjoys, Fleury faces a bigger challenge each night. Add to that his slightly better numbers this season, and he has to have the narrow edge in a debate against Crawford.