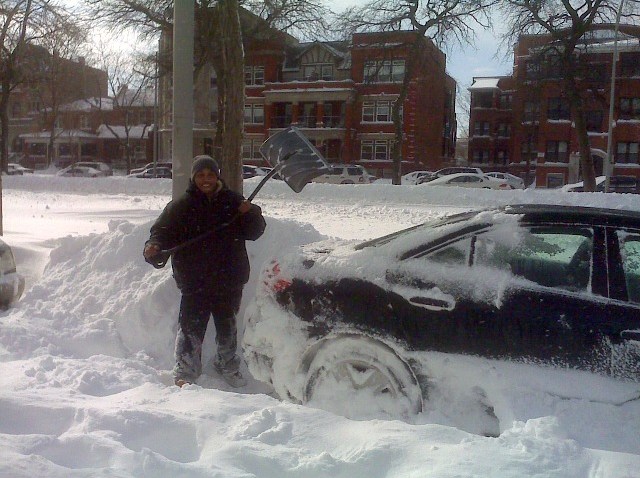 Photos | Share Your Photos | Forecast | Closings
Traffic | Airports | Metra | CTA | Chicago OEMC
You might say Chicago is a city of drifts on this raw, blustery day of clean-up. On the South Side, drifts as high as 3-4 feet line the boulevards and stretch for blocks, in some cases miles, the snow deposited there by the city's first wave of plows.

Mark Kirkpatrick started digging out his car around 6 a.m. in Chicago's Bronzeville neighborhood. He's still at it, eight hours later in the 3500 block of King Drive. He knows he's not going anywhere any time soon, but he wants to be prepared for the arrival of the deep freeze later today.
"Once it gets hard, you're really not going to be able to move," Kirkpatrick said.

There's a twisted bit of added incentive for Kirkpatrick to stay busy: He has no heat or power in his apartment. Same goes for everyone else on the block. The power went out around 6 p.m. Tuesday night as the blizzard cranked up in intensity. Kirkpatrick says he spent the night huddled in the kitchen under blankets with his wife and son. He turned on the gas-fueled stove to generate some heat. "It was terrible. It was extremely cold."

Delmarie Cobb, Kirkpatrick's landlord, blames ComEd for a systematic failure to address recurring outages on her block. She says she's getting nowhere with the power provider.

"We're either not getting anyone to answer or a recording saying 'all the circuits are busy,'" Cobb said. "What I'm angry about is this is an ongoing problem. We have complained about this."

Still, there seems to be a patchwork of promise on the South Side. Not far from Bronzeville, some neighborhoods are starting to crawl out of the snow-covered mess. People are carrying shopping bags on the streets of Hyde Park, and there's an open McDonalds at 47th and Cottage Grove.

Not far away, two stranded CTA buses are still abandoned in drifts on Cottage Grove between the 3700 and 3900 blocks. Further south, nearly 300 ComEd customers have been without electricity since yesterday afternoon. Ald. Leslie Hairston tells NBC 5 that downed power lines are to blame. She says she's asked police to go door to door to make welfare checks and CTA buses to be brought in to use as warming centers.