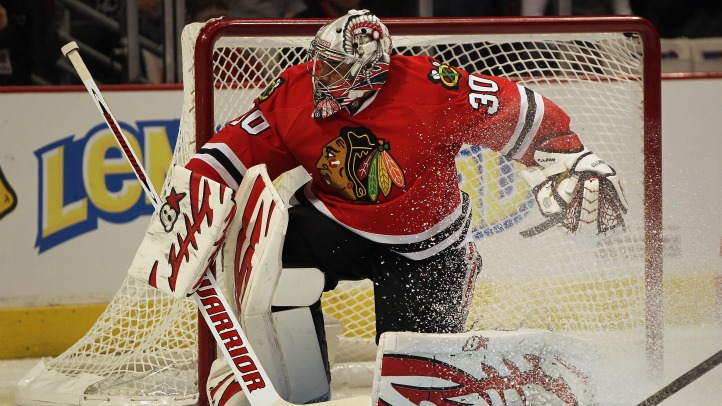 If you want a lesson in why I hate the shootout and why any self-respecting hockey fan hates it, then Monday night was the perfect one. The NHL seems to think that everyone needs a result. That everything has to have closure, and it can't have that without a "defined" winner or loser. But that's total bull roar.
The Hawks fell into the same bear trap they did last week against Phoenix. They tried to be too cute through the neutral zone, were sloppy in their own end and paid for it. Oh, and they got some more comedic goaltending. One goal came off Steve Montador blowing a tire and Sean O'Donnell misplaying a 2-on-1. The second came off the simply never-before-seen blind drop pass into your own corner by Duncan Keith. That looked like a video game glitch. Yes, Crawford was too easily skated around, but he never should have been in that position. This nonsense was capped off early in the 2nd with a turnover compounded by Corey Crawford moving side to side about as well as Chief Wiggum, which left Keith Yandle all the space in the world to find.
But the Hawks switched goalies, and they spent the rest of the game mauling the Coyotes like a lion on a bobblehead zebra. They scored three goals in the 2nd to tie it, led by their captain and now MVP front runner and I defy anyone to deny that. It's unheard of. The place was rocking, the Hawks were everywhere.
It continued into the 3rd, and only Hossa's inability to hit a net with Yotes goalie Mike Smith out for a swim prevented the Hawks from taking the lead. The last period and OT were frantic. If the game had ended there, no one would have said they weren't entertained.
But of course, the NHL decrees there has to be a coin flip in the form of a shootout. So tell me how it's better that everyone walks out disappointed instead of exhilarated because the Hawks didn't come up trumps in some gimmick. They fought back from three goals down, and deserved their point and not the feeling like they missed out on something. Phoenix was essentially on their back for the last 45 minutes of the game, so why should they get any satisfaction because they happened to work in something that has nothing to do with the game?
Anyway, Hawks fans should take the positives, and forget the last little bit. It feels better.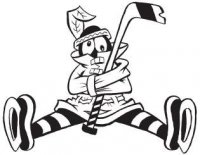 Sam Fels is the proprietor of The Committed Indian, an unofficial program for the Blackhawks. You may have seen him hocking the magazine outside the United Center at Gate 3. The program is also available for purchase online. Fels is a lifelong 'Hawks fan and he also writes for Second City Hockey .