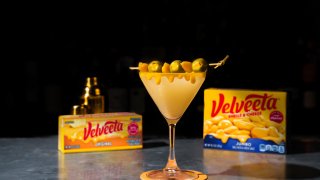 For all those big dreamers out there, a martini made with Velveeta cheese is no longer just a pie in the sky idea.
It's called the "Velveeta Veltini," and it's now available exclusively during "golden hour" at select restaurants across Chicago and the country, for a limited time only. And according to a press release, the cocktail hedonistically encourages customers who love martinis -- and love cheese -- to go ahead and self-indulge.
"This unexpected, yet delicious, over-the-top cocktail served in a luxurious martini glass furthers the brand's latest creative platform 'La Dolce Velveeta,' which is all about stepping out in a confident, unapologetic way to show the world that you're living a life filled with outrageous pleasure," the release said.
So, what's in the Velveeta Veltini? Here's a breakdown:
Velveeta infused Vodka
Olive brine
Vermouth
The cocktail is then "garnished with cheese drip and a cocktail pick of Velveeta stuffed olives and Jumbo Velveeta Shells & Cheese for the finishing touches."
Once you're ready to live life like there's no tomorrow, you can order the Velveeta Veltini at the Florentine in Chicago daily from 5-8 p.m. or order a Veltini kit from Goldbelly. The cocktail will set you back $15 and the kit will set you back $50.