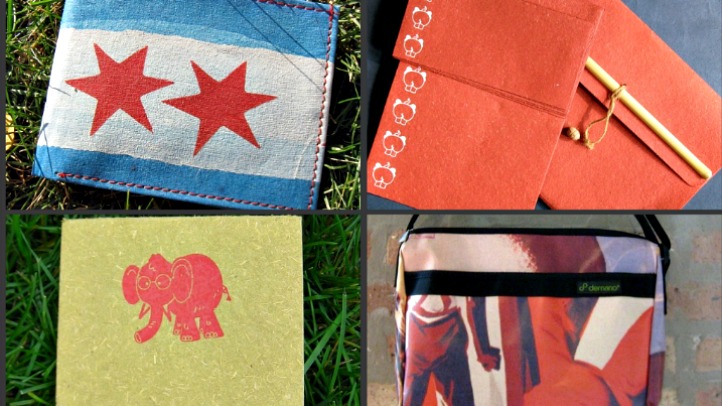 "Going green" has been the national trend for the past few years and small business owner Amy Stretmater has jumped on the band wagon importing eco-friendly products from around the world.
In 2007, Stretmater quit her day job and traveled around the world to Asia. It was there that she saw the new "green" trend of creating new products out of waste material and providing employment for an unskilled workforce. Stretmater decided to bring this trend to the US by importing these products for consumers.
After her travels, Stretmater decided to share what she learned about recycling and re-using products with people by creating her business Koru Street.
Currently Stretmater imports products from India, Columbia and Spain. Her most popular item is a wallet from Delhi, India which is made from strips of plastic bags made to look like the Chicago flag. Strips of blue and white plastic bags are used and red bags for the stars. These wallets are made specially just for Koru Street.
"It's a fun link between Chicago and India and these two people who have never really met," said Stretmater.
Stretmater says the main reason she imports and sells "green" products is to shift people's perception. She explained that she wants people to see they don't need to replace something just because it's out-of-date, and it helps keep products out of landfills.
"I'm hoping to get the idea across that you don't always need to buy something new," Stretmater said.
Helping other businesses with their green focus is something Stretmater is involved with. She talks to stores and discusses different way they can make a green impact without spending a lot of money. Stretmater says often times people think making their business "green" will cost them more money, but says this isn't the case.
A business that is environmentally-friendly has benefits for both the environment and the business. According to the EPA's Office of Small Business Programs, going green saves money by limiting waste and increasing efficiency, and 73 percent of consumers believe it's important that companies have good environmental records.
Stretmater knows first-hand the benefits of going green and has saved money by doing so. Since she began importing products she has not had to buy plastic bags or boxes for orders. She saves boxes and bags that are given to her which helps to keep costs down.
Stretmater's mission is to prove that being eco-friendly, "can go beyond the environmental benefits to improve the lives of others all around the world."
You can view and order products from Koru Street by visiting korustreet.com.