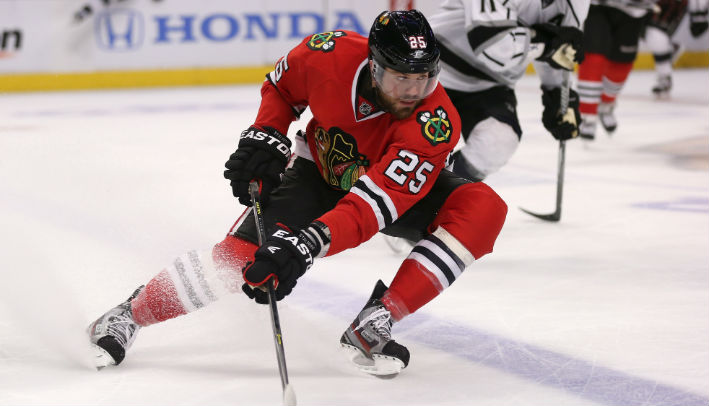 With all the talk around the Chicago Blackhawks about free agent to be Bryan Bickell, fellow soon to be free agent Viktor Stalberg is more like the forgotten man.
Going into the team's series with the Detroit Red Wings in the last round, Stalberg not only was forgotten by head coach Joel Quenneville, but he was also benched for the first two games of the series. When he came back, he showed his trademark speed and defense-stretching offensive abilities, but he wasn't able to produce much in the way of tangible results, and so he has seen his role increasingly shrinking.
Games 1 and 2 against the Los Angeles Kings have hammered home that notion. In those games, Stalberg has barely been averaging 10 minutes a game in limited action, only has three shots on goal, and one assist. He has looked good when paired up with former third linemate Andrew Shaw, and he has helped both Bryan Bickell and Brandon Saad to find their grooves.
With those kinds of intangible benefits that Stalberg is adding to this team at the moment, the question begs to be asked: should Quenneville be deploying Stalberg more often, especially considering that the team's speed is what is giving it an advantage over the plodding Kings?
The answer, unfortunately, is no. Stalberg's production has been all well and good, but there is a reason that the team has won five consecutive games. In addition to stellar goaltending from Corey Crawford, the team is also benefitting from the chemistry on its top two lines, with Marian Hossa and Patrick Sharp thriving in the new combinations. That doesn't leave much room for Stalberg to get even strength playing time, and Quenneville clearly doesn't trust him in power play situations if the rumors behind the reason for Stalberg's benching are true.
Stalberg provides great energy for the team when he is on the ice, and he has made some truly excellent plays in the early going in this series. That being said, he is better cast in a supporting role at this point, but if he continues to excel and other player begins to falter, then Quenneville very well could bump him into increased minutes.